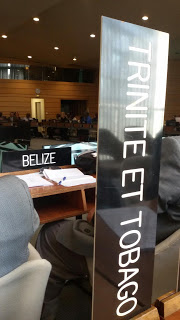 Statement by Dr Kris Rampersad on Trinidad and Tobago's handling of matters related to UNESCO
Summary of main issues and concerns: This statement follows a series of unsuccessful attempts to access existing democratic mechanism and processes for clarification and to correct the Parliamentary and public records on actions and statements by members of the Government since November 2015 in relation to the United Nations Educational, Scientific and Cultural Organisations (UNESCO) on activities in which I was legitimately engaged as a citizen and national of Trinidad and Tobago.
This occurred within and around the work of this organisation, UNESCO, devoted to promoting intercultural dialogue, peaceful negotiations and conflict resolution, in an already highly tense international meeting that involved balancing various extreme elements, and in the wake of the terrorist attacks on Paris in November 2015 which put further pressures on the already stressed peace-building systems and which cast a shadow over actions of officials from Trinidad and Tobago and the country's engagement with its international partners, as well as raised questions about its treatment of nationals.
Returning to private life, my approach to date has been to allow established mechanisms and procedures to address this matter.
However, using the cover of powers, privileges and immunities of Parliament both the Minister of State in the Ministry of Education, the Honourable Lovell Francis in the House of Representatives on January 22, 2016 and the Minister of Education, the Honourable Anthony Garcia in the Senate on January 26, 2016 have distorted the facts with omissions, misalignments and misrepresentations of dates, sequences and chronologies; exhibiting as the line officials on UNESCO matters considerable deficiencies in knowledge and understanding about matters under their jurisdiction and portfolios on the roles and functions of offices, institutions, organisations and persons and processes, procedures and roles, functions and mechanisms and of international and national systems therein. This has cast further confusion over the issues about which I have been asked by various quarters nationally and internationally to clarify…. for more click here
http://kris-rampersad.blogspot.com/2016/03/open-statement-breaking-silence-on.html
http://kris-rampersad.blogspot.com/
via Blogger http://ift.tt/1UAbBCv