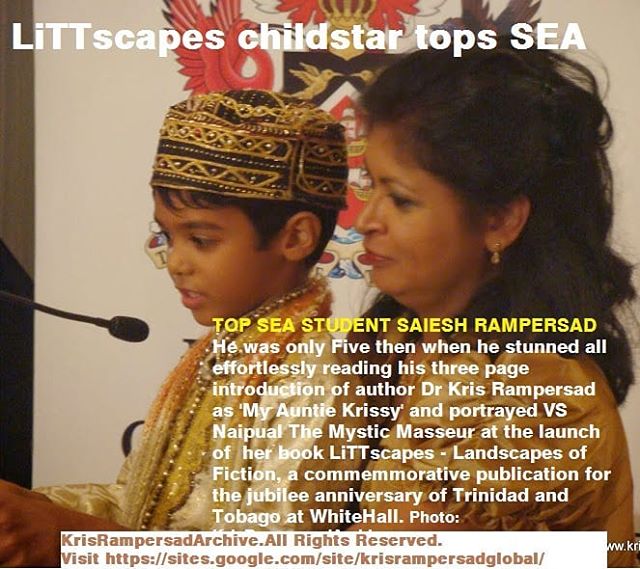 LiTTscapes Childstar Tops Exams
Congratulations. LiTTscapes Childstar Tops Exams. Kudos to Saiesh Rampersad who topped the national SEA exams with perfect scores 100 percent in Language, Maths and Creative Writing. Want to know why?
He was only five years but he was already a star when he introduced author Dr Kris Rampersad cheekily and flawlessly reading three pages of text as
"My Aunty Krissy"
at the launch of the highly acclaimed
LiTTscapes –Landscapes of Fiction
from Trinidad and Tobago at WhiteHall a commemorative publication on the Literary Heritage of Trinidad and Tobago featuring the representation of the islands by some 100 writers through photographs and texts. At the launch, Saiesh portrayed The Mystic Masseur, a famed character from the novel of that name by Nobel Laureate Sir Vidia S. Naipaul.
LiTTscapes was written to encourage appreciation of reading, literature and heritage and to spark curiosity in the world around by one and old, in conjunction with LiTTours and LiTTribute, dubbed 'the reading room outside the reading room' to make reading, even the harsh social realism of Caribbean literature, an enjoyable experience. Many children took part in our launch and have all gone on to be successful in their pursuit of excellence. We salute you. Saiesh success is testimony to the important role of dedication, guidance and encouragement from adults, beginning with his
parents and family. Rooted in his heritage and with tremendous guidance support and encouragement, his is a role model in many ways for others.
Discover Saiesh's first book, The Adventures of Munnie Butterfly and Danny Dragonfly. Get your copy now. Visit Dr Kris Rampersad Amazon Author Page at
amazon.com/author/krisrampersad.
Book your interactive sessions sessions with Dr Kris Rampersad.
LiTTscapes is part of an initiative towards solid literary grounding and understanding of one's place in the world is the foundation for success! Congratulations to all the children who wrote SEA.
Corporate collaborations are welcome. Email lolleaves@gmail.com.
Kris Rampersad Amazon Author Page : amazon.com/author/krisrampersad
The Walcott Files
LiTTscapes for Littribute to the
Antilles
A LiTTribute at UNESCO
Inscription by UNESCO of Poems
Small only in Size UNESCO Executive
Board told
World in a Fishbowl
A Musical Heritage walk UNESCO
Creative Cities
[youtube=https://www.youtube.com/watch?v=jkgE69wgUgw&w=320&h=266]