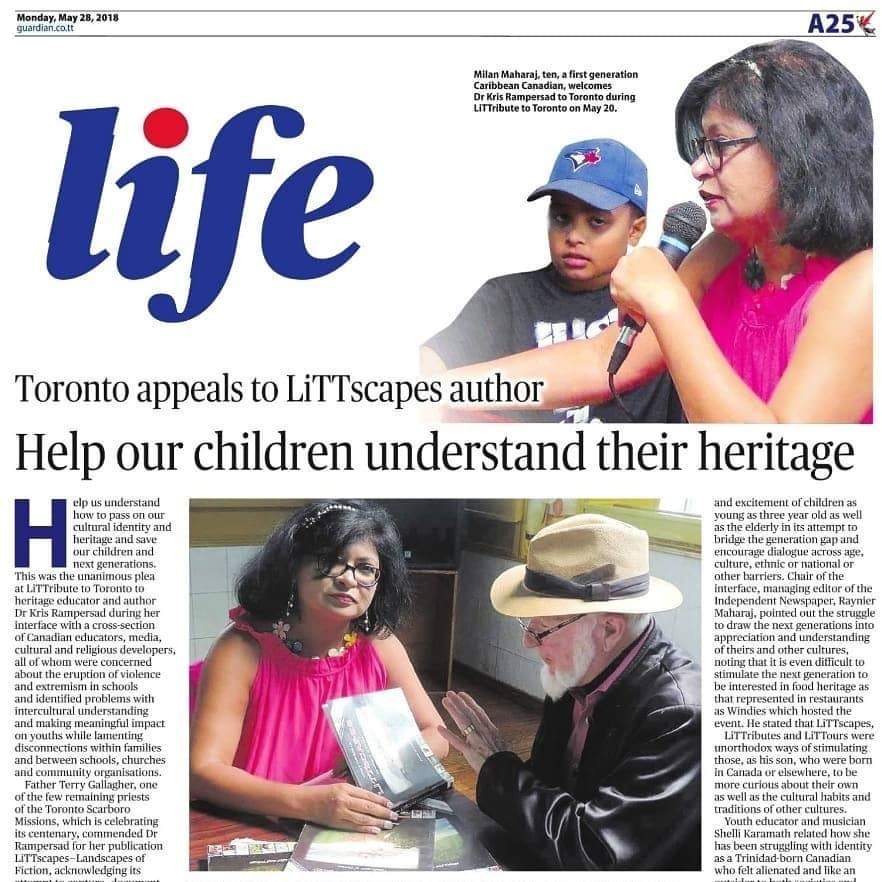 The increasing incident of violence and extremism in schools
emerged as a core concern of educators, parents, religious, community and
cultural heads identified the sense of alienation by migrant and first
generations and challenges with adapting to their adopted societies.
Help our children understand their heritage:
Toronto appeals to LiTTscapes author.
'Help us understand how to pass on our cultural identity and
heritage and save our children and next generations,' was the unanimous plea of
a cross section of educators, media personnel, priests and social and cultural
workers as they commended the efforts of the LiTTributes to open and expand
exploration of cultural differences while identifying similarities as a means
of bridging divisions between groups, reduce intergenerational conflicts and to
stimulate the creative energies of youth across diverse societies.
GET YOUR COPY OF LITTSCAPES: VISIT HERE
Inspired by her book
LiTTscapes – Landscapes of Fiction,
Dr
Kris Rampersad has been on a LiTTour to North America in the USA and Canada,
interfacing with individuals and groups on heritage issues. The events have
attracted persons from across the diaspora as well as educators and social
workers for change who applaud the efforts.
Many identified problems with intercultural understanding as
one of the core impulse for eruption of violence and extremism in schools,
lamenting disconnections within families and between schools, churches and community
organisations.
Reverend Father Terry Gallagher, one of the few remaining
priests of the aging Toronto Scarboro Missions which is celebrating its
centenary and has been challenged to attract young theologians, commended Dr
Rampersad for her publication
LiTTscapes – Landscapes of Fiction
, acknowledging
its attempt to capture, document and excite the imagination of the young and
old and bridge the gaps between cultural and ethnic communities. He noted its
subtle ways of linking the natural heritage of geographic spaces with living
cultures of people and blessed Dr Rampersad's work and encouraged her in her
efforts and vision for a more holistic approach to the culture of the Americas.
ASK ABOUT HOW YOU CAN LEAVE A LIFETIME LEGACY:
CONSULT LEAVES OF LIFE LEGACIES: VISIT THIS PAGE HERE
"For me, the publication of LiTTscapes was not an end but a
beginning," Dr Rampersad explained after being welcomed by ten year old Milan
Maharaj who has shown a keen interest in the book to the gathering at
LiTTribute to Toronto at Windies Restaurant.
She said her unorthodox approaches to education through LiTTributes and LiTTours as methods for lifelong learning that include such cultural exchanges were meant to encourage institutions as schools, churches, museums, restaurants and other community and family
institutions as well as those in charge of making policy to rethink their
approaches to passing on knowledge and information and to engage the next
generations in ways that will stimulate their creative energies as wel las make
them active participant in the development processes.
Dr Rampersad revealed the intention of preparing and
presenting the book which captures multiculturalism through hundreds of colour
photographs and descriptions the literary and cultural traditions and
lifestyles heritage as portrayed through more than 100 works of fiction by
literary laureates as Derek Walcott and Sir Vidia Naipaul as well as many
lesser known and several writers of Caribbean heritage from Canada, the UK, and
the Americas. She spoke of her vision to engage youths into more constructive
and mindful community-inspired actions away from lives of crime and delinquency
as recent school shootings through not just the book, but also its related
activities as these LiTTributes and LiTTours all of which have been received
with tremendous enthusiasm not only in Trinidad and Tobago and its first launch
but also in presentations across the Caribbean, the Americas, UK, and Europe.
Dr Rampersad explained that the book is not just an academic
publication and while it is attractive to educators and policy makers, it has also
drawn considerable interests and excitement of children as young as three year
old as well as the elderly in its attempt to bridge the generation gap and
encourage dialogue across age, culture, ethnic or national or other barriers.
Chair of the interface, managing editor of the Independent
Newspaper, Raynier Maharaj, pointed out the struggle to draw the next
generations into appreciation and understanding of theirs and other cultures,
noting that it is even difficult to stimulate the next generation to be
interested in food heritage as that represented in restaurants as Windies. It's hosting of the event signified the role
of such institutions in taking an active part in heritage stimulation as
envisioned by Dr Rampersad, he stated, noting how LiTTscapes, LiTTributes and
LiTTours subtly stimulated the interest of his Canadian born son, as it could
encourage children to be more curious about their own as well as the cultural
habits and traditions of other cultures. He revealed that an interface on
cricket and other recreational forms will be announced soon.
Youth educator and musician Shelli Karamath, told how she
has been struggling with identity as a Trinidad-born Canadian who felt
alienated and like an outsider to both societies and how she could use the book
as a tool with her students to bridge understanding. Echoing similar
statements, educators, culture, community and religious workers in the audience
identified problems of passing on understanding of traditions of music, dance,
food and other elements as represented in LiTTscapes to their children and
encouraged Dr Rampersad by committing themselves to formalize these efforts.
Other guests expressed a keen interest in getting their
children and grandchildren involved in the range of downstream activities that
included interactive workshops, expositions and entertainment and educational
travel exchanges presented through the LiTTributes an LiTTours. Following the
publication of LiTTscapes as a commemorative publication of Trinidad and
Tobago's Independence Jubilee, Dr Rampersad has staged LiTTributes in
collaboration with universities, foundations, media, arts and culture
organisations in the Caribbean, South America, UK and Europe. Others for Asia,
Africa, Europe and elsewhere in the Americas along with deepening the
interchange with the Caribbean and at home are in the making.
Copies of LiTTscapes and bookings of LiTTours and
LiTTributes through the Americas are available by request through Facebook
LiTTscapes or
lolleaves@gmail.com