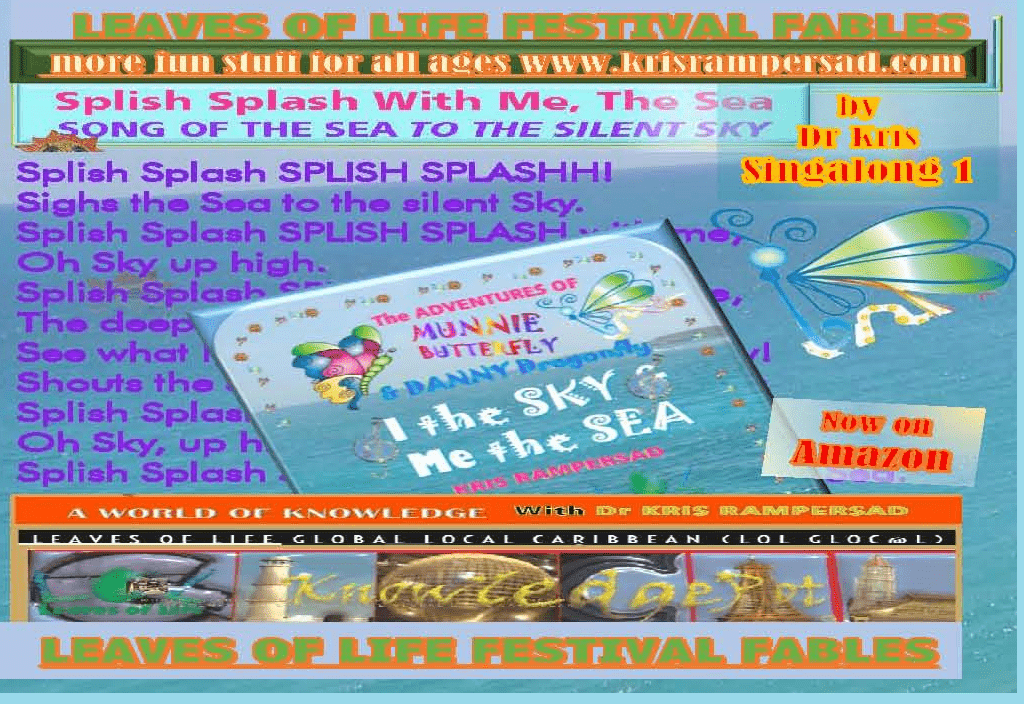 Munnie Takes Flight. Just in Time for back to school.
Add something special to your child's schoolbag this term. Stimulate creative thinking and confidence to imagine the world we want. Get the Festival Fables, I the Sky & Me the Sea, The Adventures of Munnie Butterfly and Danny Dragonfly Book 1.
I call it edutainment because I believe knowing should be Fun and Frolic. Explore with Munnie and Me, the World Through MultiCultural Lenses. Creativity applied to Sustainable Capacity Development for Communities and Institutions for all ages for Lifelong Learning and Global Citizenship.
Delightful Festival Fables to stimulate creative learning
Look at the more detailed offerings in this video. These delightful festival fables for all take a close look at the diverse world. They explore our linkages to each other and to nature, through interconnected natural and cultural heritage. They help understand migration, peoples and cultures of many lands. They entice readers to unearth their innate superpowers by encouraging curiosity about our world and everything in it.
Subtly injected into the story, young readers can learn colours, shapes, numbers and word appreciation, enjoy rhyme schemes, word play, puns and sharp insights into human nature as well as sharpen listening and observation skills, sensitivity to natural sights and sounds and be awed with refreshing wonders in our world.
A gallery for adventure
Though simple Fables, they incorporate an integrated vision of merging perceptions of the arts and science, environment, numeracy, literacy, cultures and heritage, and treat them not as separate disciplines, but holistically, as an interconnected collective whole.
They also foster other intangible skills: to listen, observe, care, respect and appreciate.
In I the Sky & Me the Sea, Book 1 of Leaves of Life Festival Fables, MUNNIE, an adventurous butterfly explores new lands and makes new friends. She meets Danny a Dragonfly. These two Best Flitter-Flutter Friends (BFFFs) share different views of the world and learn to appreciate their differences. They celebrate the world of flitterers and flutterers, in a beautiful sing-along with the Sea and Sky. visit www.krisrampersad.com.
To find out more about I the Sky and Me the Sea visit
the page here
Novel Custommised CSR Initiatives
Are you a philanthropic or corporate entity, interested in collaborations. All our offerings can be tailored and customised to your clients' needs, interests, industry and locale. Explore our novel sponsorship opportunities and creative partnerships here.
Find out more about Kris Rampersad here