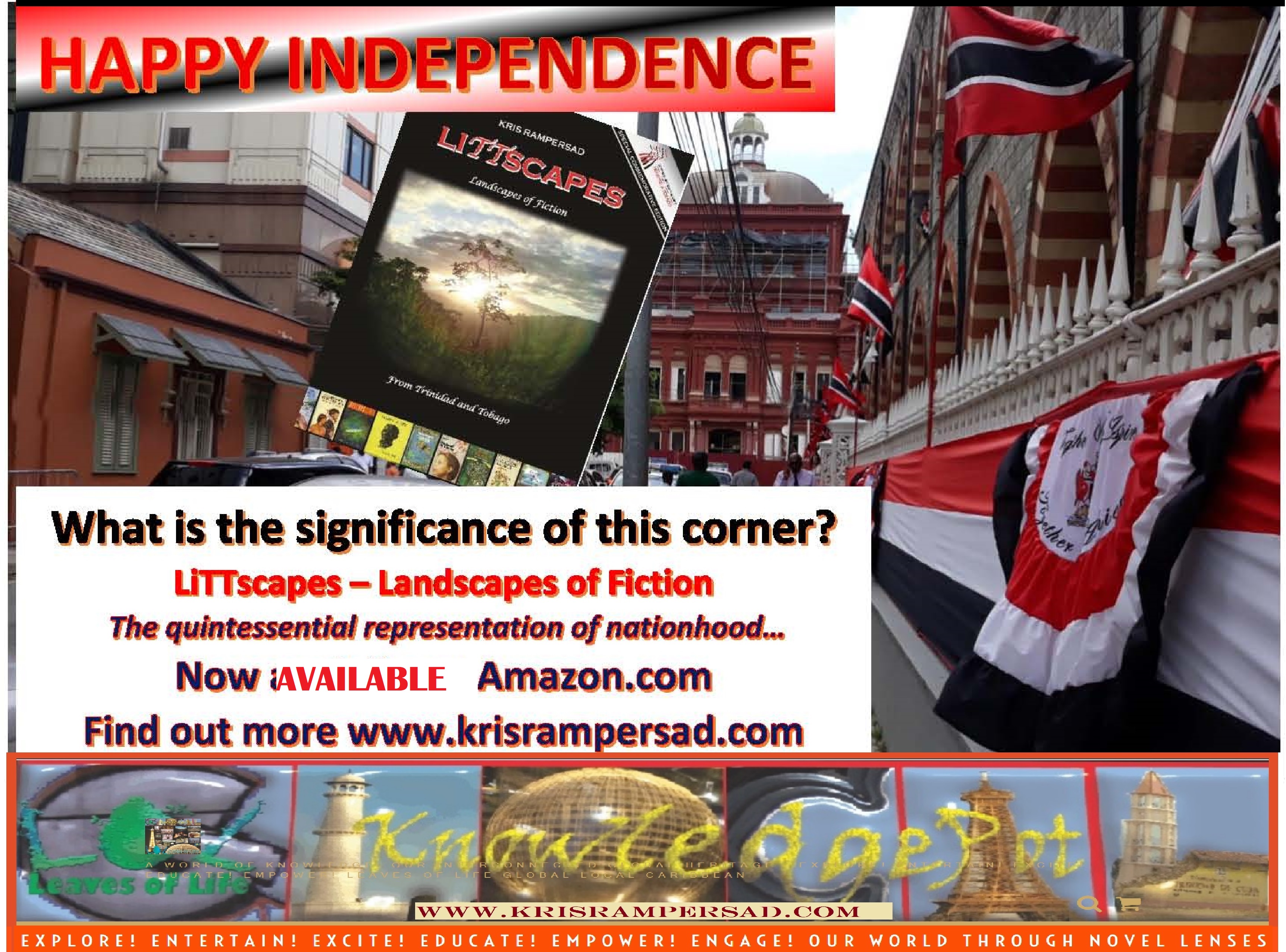 It's time to reflect on the State of the State at Independence 57 or shall we say 5.70. What is the significance of this corner? Do you know that almost every village, town or district space is of some significance whether Global, Local, Caribbean?
Mindscapes & Landscapes of the State of the State at Independence 57
Explore the landscapes and mindscapes. Discover the extraordinary in the mundane. Stimulate your imagination. A time for reflection of from whence we come and where are we going. Unique representations of the the living heritage of the people, spaces, and the journey of a small post colonial island towards nationhood and some disappearing landmarks.
Let's Explore the State of the State at Independence.
Discover the extraordinary in the mundane.
Explore through the best thinkers and the intellectual traditions. in our Landscapes of Fiction. Now Available on Amazon …
Find out more about LiTTscapes – Landscapes of Fiction and where your imagination can reach.
WHAT ARE THE CRITICS RAVING ABOUT?
WHY LITTSCAPES IS A MUST-HAVE READING & TRAVEL COMPANION
No one book can set out to achieve everything that a text can do for its people and its nation; but whatever you say one book can't do, this one almost does," says head of the Guyana Prize for Literature and former Vice Chancellor of the University of Guyana.
"It is a quite thorough artistic concept…a portrait and biography of the nation of Trinidad and…is attractively, neatly and effectively designed." He noted that it reflects "a considerable volume of reading ranging from…the dawn of Caribbean literature."
"It takes us on a tour of the country, giving some exposure to almost every aspect of life…no tourist guide can give a better, more comprehensive introduction to Trinidad. It entices and attracts just as the glossy tourist literature.
"Photographs … are accompanied by the descriptions and literary excerpts: this treatment is given to the capital city, other towns, streets, urban communities, villages, historic buildings and places, vegetation, animals, institutions, culture and landscape. There is considerable visual beauty, what Derek Walcott calls "visual surprise" in his Nobel Lecture; an impressive coverage of social history, geography, and politics, but also a strong literary experience. It is a survey of Trinidad's landscape and of its literature."
"LiTTscapes does achieve an innovative approach to literature in bringing it alive in the description of landscape, life, culture and people. It encourages people to take ownership of it, see themselves, their home or familiar places in it and accept it as a definer of identity."
Visit the LiTTscapes gallery and don't forget to subscribe to my YouTube Channel here
Get Involved. Find out about our novel creative partnerships where there's something for everyone from ages 3 to 103.
Learn about novel ways of discussing and interacting.
You would wantto be a part of the REading Revolution!
LiTTscapes And the Reading Revolution
Of course we need a revolution to give effect to our Independence. We are doing it with a Reading Revolution.
LiTTscapes – Landscapes of Fiction by Kris Rampersad is a groundbreaking encyclopaedic coffee-table style compendium of the interplay between fiction and reality. More than 100 works of fiction are presented through photographs of landscapes lifestyles, landscapes, architecture, cultures, festivals and institutions.
Explore interconnections with the State of the State of Independence.
Do you know you can request LiTTribute tailored to your locale, interest or industry? Find out more.
LiTTscapes is also associated with LiTTeas, LiTTalks, LiTTributes and other heritage adventures and explorations. Find Out More!
Journey through landscapes and mindscapes of our interconnected heritage.
Book a specialty LiTTour, LiTTea, LiTTribute or let us design one for your own interest or industry.
Ask about our By Request Only LiTTour and LiTTribute to the Nobel Laureates of Literature and their Legacies of Learning- Journeys Through the Landscapes of Fiction and Heritage Tours of Award Winning Writers and Thinkers;
Book an interactive tribute or other session, workshop, seminar, breakfast, tea or dinner talks facilitated by with Dr Kris.
Global Local Caribbean: The State of the State At Independence 57:
Our LOL GLoCal (Leaves of Life Global Local Caribbean) Knowledge Pot spans the globe. Any subject. Any interest. Any topic. Any Industry. We are interconnecting the world in novel ways.
Our LiTTribute to LondonTTown explored the synergies with sustainable development with exchanges from key international icons on development, progress and heritage. You can be a part of our efforts at sustainable development, interconnecting disciplines, fields for integrated development. Find out more from our sustainable delvelopment platform.