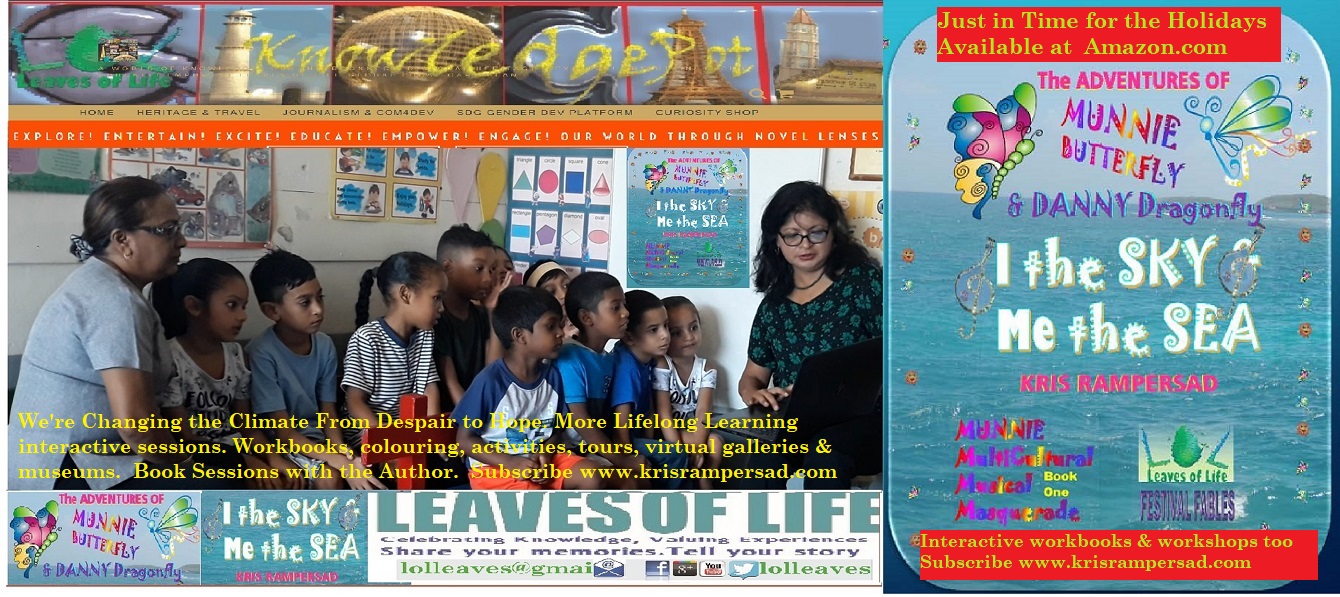 Leading the Reading Revolution, in our Leaves of Life GLoCal Knowledge Pot, everyday is a literacy day. Reading is not just an event but a lifestyle. At the intersection of media, culture, gender, youth, education and inclusive communities, we are addressing SDG 4 towards Quality Education in Novel Ways. Join us. Subscribe
For us literacy resonates with our living heritage in vibrancy and bouyancy of language and expression. It is not just passive text.
Aligned to the Sustainable Development Goal for Quality Education, SDG4, in Novel ways, across Global Local and Caribbean communities, we are confronting the challenges from policy, agenda and institutional reform to producing creative learning materials with an academy and multimedia gallery of learnings. See how in this video click this link or image below:
Novel Interactive Creative Writing
The new Festival Fables, I the Sky and Me the Sea, now available on Amazon in paperback and Kindle, integrates the joyful experience of literature in words, wordplay, sound, song, rhyme, alliteration, colour, inflections of all kinds. Find out more here Click here.
See youtube videos on transformation and cultureshift from youth here:
Leading the Reading Revolution in Novel ways, in our Leaves of Life GLoCal Knowledge Pot, everyday is a literacy day international across Global Local and Caribbean communities. Join us. Subscribe.
Agenda Setting, Legislation & Policy Reform
From impacting the policy and legislative agenda – see our role in leading the call for repeal of the Sedition Act – to creating novel channels of engagement, our Reading Revolution is creating waves of new critical thinkers.
See how we do it:
We first highlighted the archaic Sedition Act and its archaic anti-democratic provisions and potential threat to literacy in our blog Demokrissy – I Read Therefore I Crime. We welcoming the growing interest and pressure to repeal the Act. Our LOL GLoCal portal has many more revelations of policy and legal transformations needed to emancipate full participation in the information age.
You can join us and contribute to our collective development and have fun doing it.
LiTTea – Let's have a teaparty – whether Alice In Wonderland-like or like the Bostonian act of rebellion against arbitrary taxes, our teas, share your thoughts, interact in the casual setting of a tea party. available by request only.
Independent Critical Thinking
We know the value of reading in cultivating independent critical thinking young men and women from ages 3 to 103. As a continuous lifelong learning platform, we unfold new features and creations to inspire and encourage literacy to be in the know. The LOL Reading Revolution aims to encourage unified approaches to learning, incorporating technical literacy, financial literacy, and literacy that helps us appreciate the experiences of those around us and storify them. With useful guides from our Academy and Learning Laboratories, galleries and museum displays, learning is an integrated creative experience of LOL sounds, shapes, textures, images, tastes, and emotions. It is the kind of balanced development for which we thrive, to encourage total development.
Literarily by Dr Kris
Literarily, a new age encyclopaedia, injects novel meaning to old words. First begun as a leader feature on the editorial pages of the Guardian, we continue to build our encyclopadeia in the LOL GLoCal Knowledge Pot. Subscribe to get new words from Literarily by Dr Kris, here.
LOL GLoCal Literary Salons
We are expanding the Leaves of Life Creative Literary lounges and Reading Salons – LOL Literary Salons – expanded beyond our shores to GLoCal – Global, Local Caribbean and parts unknown. We amalgamate understandings and experiences of our writers and yours through interactive creative engagements, readings, and discussions with song, music, dance, food and other elements of our interconnected global heritage. Join Us. Subscribe to keep updated.