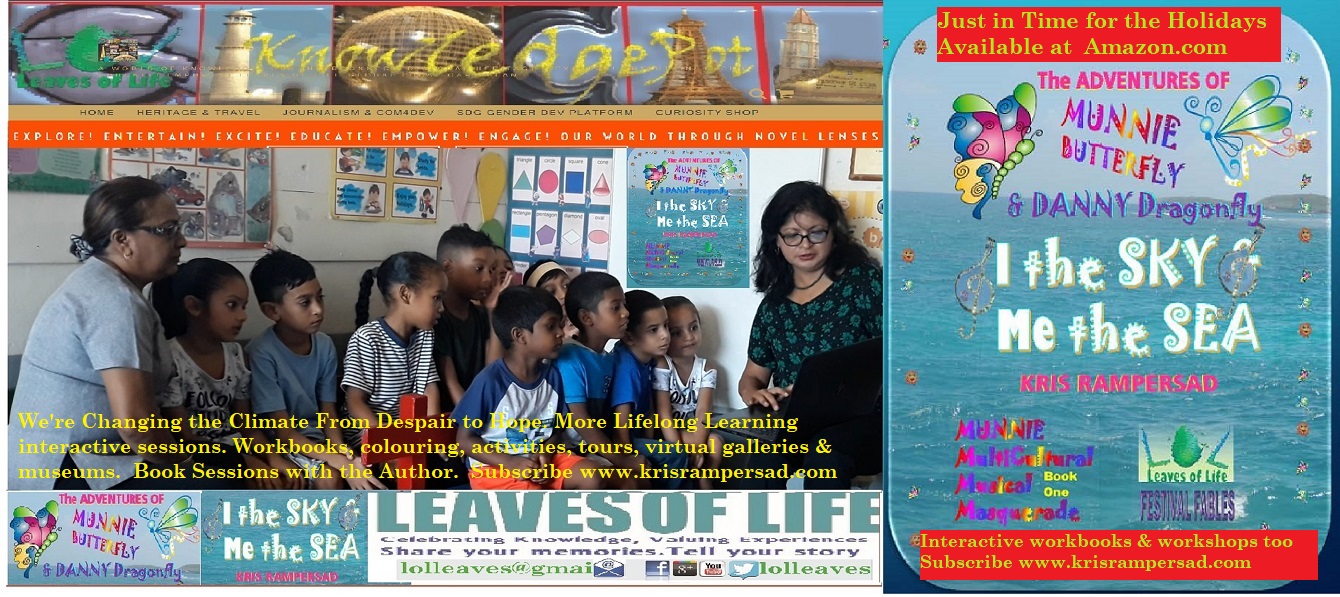 We're changing the climate in Novel ways!
"'Begin at the beginning, the King said very gravely, 'and go on till you come to the end: then stop,'" in Lewis Carroll's children's classic, Alice in Wonderland. An unending spectrum of wonderland adventures across Sea and Sky with celebratory singalongs await kids from 3 to 103 in the new series of Festival Fables.
So we're starting at the start, with Kindergarten Kids. We're creating synergies between sustainable development, lifelong learning for social transformation with our our Reading Revolution.
Our engaging platform for children from 3 to 103, Leaves of Life Global Local Caribbean – that is LOL GLoCal (pronounced Glow-Cal) embraces the world of knowledge, connecting cultures and heritage and stimulating life long learning with interactive tools and platforms, virtual galleries and museums, tours and exchanges.
Find out more about I the Sky and Me the Sea here. Get your copy at the Amazon Store via Kris Rampersad Author Page: amazon.com/author/krisrampersad
Find out more. Subscribe to krisrampersad.com.
Explore. Entertain. Excite. Educate. Empower! as we promote synergies for social development between the literary heritage and new media technologies and traditional print, textual and audio visual media.
This is a journey to success. Find out more here.
Our focus is on integrating understandings of the relationship between literary, entertainment, performance and film sectors with cultural heritage tourism, creative industries and other dimensions of sustainable development as environment, ecological and heritage conservation, global partnerships, sustainable industrial development, poverty alleviation, gender equality, youth engagement and democratisation of societies.
https://www.youtube.com/watch?v=wZWK7A-Abd0
Learn more about LiTTscapes, LiTTours and LiTTributes here and ow we are transforming the world, one kid at a time here
Get your copy of LiTTscapes at Kris Rampersad Amazon Author Page linked here:
Explore Landscapes of Fiction with our Global Local & Caribbean LiTTours and LiTTributes and Journeys through Landscapes of Fiction here.
Subscribe to https://krisrampersad.com. See the new line of FESTIVAL FABLES. The Adventures of Munnie Butterfly and Danny Dragonfly by Dr Kris Rampersad linked here. Book 1: I the Sky & Me the Sea by Dr Kris Rampersad now available amazon.com/author/krisrampersad
LiTTscapes – Landscapes of Fiction: Now Available on Amazon. Visit Dr Kris Rampersad Amazon Author Bookshelf amazon.com/author/krisrampersad.
Partnerships and Sponsors
If you would like to sponsor copies, an event, tours, or interactive session with your group, organisations, neighbourhood, community or industry and for bulk orders email lolleaves@gmail.com. Contact us and we would suggest novel ways to make a difference through corporate collaborations, sponsorships, and partnerships through our custom-made lifelong learning opportunties tailored to all ages and interests interactive sessions, tours and other lifelong learning opportunities for all.
Find out More about Dr Kris Rampersad and other offerings here:
Stay up-to-date. Request our workbooks and workshops and interactive sessions More at LOL GLOC@l Knowledge Pot