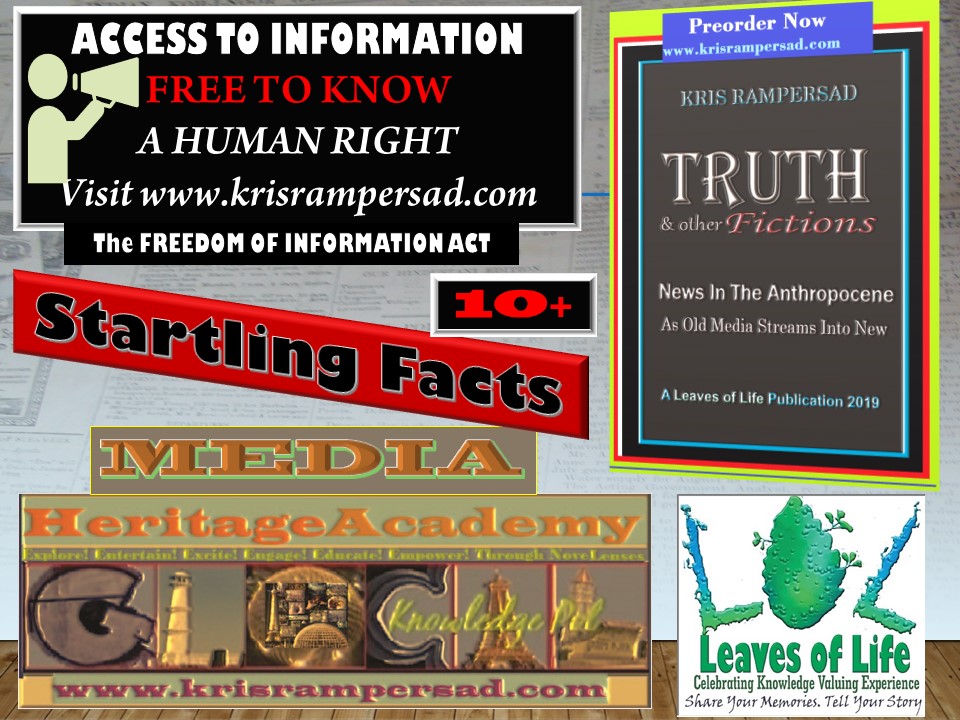 Emancipating Freedom of Information & Other Acts
From behind the scenes in the two-plus decades' struggle to preserve and protecting principles and practice of the Right to Know, here are some salient Global to Local experiences to light the path of enlightened leadership in the way forward. Here's what it takes to maintain and mainstream Right to Know laws from grassroots small islands to the United Nations, Commonwealth and InterAmerican Organisation of American States systems to inform the way forward… At the cusp of the information age ..
21 plus potential loopholes to watch
Flaws in the Law
Startling Fact in Shaping the Right to Know
Knowing and Human Rights
The Freedom of Information Law and Lore
Things You Didn't Know About The Freedom of Information
Activating Underutilised Elements of The Freedom of Information Law
At the cusp of the information age, Trinidad and Tobago was one of the first countries in the region to introduce modern Freedom of Information (FOI) Laws. Taken into the international lobby in expanding not just the access to information for journalist and the media but also to broaden and deep the spaces for human rights and freedoms, it informed and inspired the creation of Freedom of Information Laws in many countries…..
Truth & Other Fiction Preorder Now
(Sections & Appendices Include: Creating Freedom of Information Access. Agenda Setting with Local to International InterGovernmental Agencies at UN, Commonwealth and Organisation of American States; Challenges to FOI Laws; Countries with FOI laws; Parliamentary Process. Judicial Review, Ombudsman and Other Oversight Insights….
Trinidad and Tobago is the third English speaking country in this hemisphere and the fifth in this region to enact a Freedom of Information law.
In this way it has influenced and inspired the mushrooming of Freedom of Information Laws that have developed in many parts of the world.
Recognising that it is not ideal, it was also critiqued and its flaws unearthed and I have made many recommendations and developed action plans on improving the law and its effectiveness in transparency and accountability in governance and use of State resources. These have been taken into consideration and adopted in some jurisdictions that have since enacted laws.
Issues of the time frame and the cost implications have been central to the preoccupations of State agencies wishing to shirk the law. (See Core Safeguards in Freedom of Information Legislation)
To request access to the information visit the GLOCaL Academy and contact for more details and purchase.