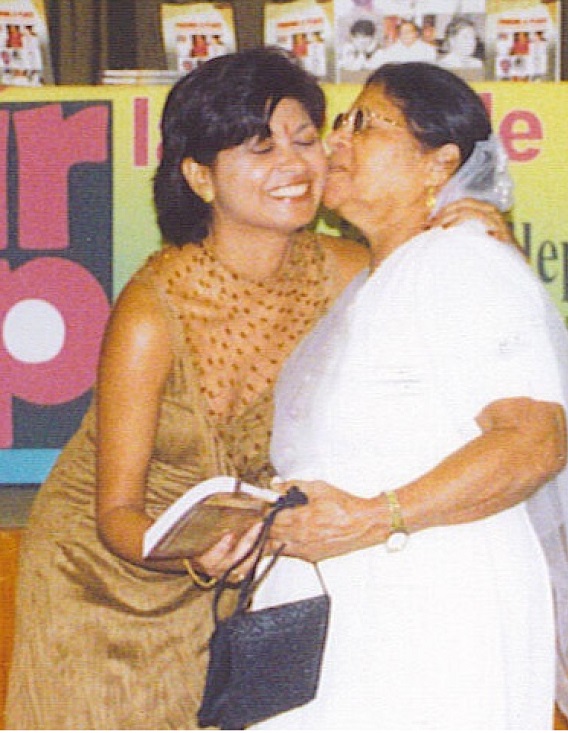 What constitutes wealth and where do we get it? I received this momento of wisdom from my mother that is worthy of introspection and reflection by all this Mothers' Day….
The National Award for Development of Women/Journalism to me represents an acknowledgment of the sometimes nameless and voiceless women and others I have tried to represent; whose stories I have written, and whose views I have tried to articulate variously as a journalist, as an advocate and activist, as an author, educator and media practitioner in the quest for equity and inclusion, to open up spaces for women and advance a level playing field for all.
We who are given opportunities have a responsibility to give back and to leave our sphere better for those who come after. The wind beneath my wings has always been my now octogenarian mother who had little such opportunity as what she tried to provide for my siblings and I, who inspires with her humility and abundant love; who gives and asks for little in return and who instilled in me that my wealth is my mind. It is to her courage and resilience and quick wit that strengthens my resolve in substituting the pursuit of material wealth for the pursuit of knowledge.
Want to Order in Advance? Send Request in Contact Us Form on this site.
Ma and me
Ma surprises me one day, although I thought the battle was fought and won. It is no mean feat to de-condition centuries of tradition of the notion that marriage is not the ultimate goal for a woman's self-fulfillment. Yet, I believe I had convinced Ma. I wasn't in anyway averse to the notion. But life gets in the way. So much to do and so little time to do it in.
The hints and suggestions of appropriate life partners were becoming less frequent. It was a long time since I heard her speak of it. Perhaps she has resigned herself, I think.
Then Ma surprises me. We are talking now about my career. It is difficult to explain. I do not have a career. I do not really have what
people consider a real job. The demands of the NGOs had escalated. It left little time to visit, to talk. The schedule was getting hectic, one international NGO meeting after the other. I was beginning to feel the strain. There was little time to earn a living
and there were bills to pay…. Then Ma surprised me, by saying this…
Between Saving The World and Ma
…One December, I was invited to a meeting to design
international policy for Information and Communication Technology at the United Nations in Geneva – a follow-up meeting to the first World Summit on Information Society meeting held in Tunisia some years earlier, to assess the distance traveled in ICTs and the way forward. I had presented on the need for gender-sensitive ICT policy, with a critique of gender blindness in ICT policy. Rewind! FastForward, it was entitled. Fastforward was the name of the national ICT policy.
…My friend Gail arrives to take me to the airport, yet again., but she instead finds me sitting, half-dressed, my winter boots next to me, pensive.
"Come on. You are going to be late!" She sits me down and pulls my boots on.
"I don't think I should go," I tell her. "Ma's not feeling well." Ma had just turned 80….
When I went to tell her I was leaving again, I could tell that she was beginning to feel that this could be the
last time we would see each other. …
When A Mother Forgets A Birthday
There were many family occasions missed too. I felt that my
nephews and nieces knew of me from what they read of and by me. For many years my birthday went uncelebrated or in other lands. In Uganda, coordinating the outreach for the Women's Affairs Minister's Meeting, the women came together because Hazel Brown insisted that my birthday be recognised with a cake.
Then, Ma too, still remembered my birthday, though I was far away. I did not imaging that a day would come when she would not, and then one day that day came…
Mothers' Day Missed
…In the weeks that I tried to pull together my second book,
Through
the Political Glass Ceiling
so it could be out before the general
elections. I felt a launch before the elections was crucial, because there were some prophetic elements therein, I felt. prophetic, guided by my original research that generally departs from and challenges the thinking of the day or long held notions – mostly guided by skewed research. I try to review and revise some of those about the political culture in this book's introduction,
The Clash of Political Cultures: Cultural Diversity and Minority Politics in a Small Island.
I focused on the intangibles of political ideology that has often been overlooked in political and socio-cultural analyses. The world is only now awakening that to the reality that these overlooked elements are indeed central and core to democratic failures, and only now recognising how focusing primarily on overt factors can skew analyses. And that made it seem as if I had a Krystal ball – that is, prophetic. It was around these insights that I wrapped career the woman who was in line – or destined -to shatter the political glass ceiling as the first woman Prime Minister.
…When my family gathered for Mother's Day, that May, I had to beg leave. The book had to get to the press; the launch was in a few days. And a few days after that the elections. Ma understood. She encouraged me to get it done. I took comfort that she would be at the launch. How much we take our mothers for granted.
And then she said…
It was after the launch of Through the Political Glass
Ceiling. We are sitting. I had just finished giving her a massage, with coconut oil, as she liked.
"When you going settle down, girl?"
Oh dear. That talk..again! I think in dismay.
"But I am settled Ma."
"But who you going to leave your wealth to?"
It was not the question I expected from Ma. We were generally never a family whose prime impulse or focus was on material wealth. I should have known.
"What wealth Ma? I asked. Startled. I explained to her that I generally worked for just stipends to cover daily allowances, and when time permits, a few contracts that would have to cover the expenses of the months not formerly working.
"I am doing what I am called to do," I tell her.
That's when Ma surprised me.
"Your wealth is your mind. Who you going to pass that on
to?" Ma says.
And a little something extra in honour of Mothers' Day – extracted from upcoming Autobiography, Life HoleHeartedly
At the grinding stone
'Everytime I passing
gyul you peesaying masala….'
I discover the world in Ma's kitchen: the crossroads of new
and ancient Asian, Arabian, African, American European culinary delights. The
scents in Ma's kitchen are like the convergence of global force winds and
waters at the crosscurrents of the world.
Ma is humming,
'Everytime I passing gyul you peesaying masala
' as she presses out ancient family
culinary secrets from the mystical Orient beyond the Middle Passage through
Pacific-Atlantic Spice Routes, rerouted and rerooted. Like tantalising tall
tales of the Arabian Nights they tease my senses out of my comfort zones of
fairytales through Tunisia and Turkey, Venice and Manhattan to discoveries that
will overturn histories and empires and turn pages, heads and square, oval and
round tables of global diplomacy…..
Everytime I passing
gyul you peesaying masala, Ma hums.
From the bowls of spices surrounding her, ancient unrecorded
lore transfers an exotic and erotic past from the perfumed gardens of the
ancient new world. Silken curtains swish against each other sinuously and in
sensual whispers seduces me to board closely guarded camel-drawn caravans laden
with dhania, pippali, nutmeg, cloves, maithi, nigella, cinnamon, cardamom,
mace, turmeric, across the deserts from Dravidian civilisations; aboard Persian
carpets of Iran and Iraq; pausing for refueling at the intersection of shipping
ports via the Arabian Sea into the Egypt's Nile and the courts of Ramses; then
onward through to Mediterranean parts, Turkey, swashbuckling with the Ottomans
to enter Greece, to join Marco Polo through Rome, Venice; and Vasco De Gama
then Magellan in Portugal, and onto Spanish, French, Dutch Europe, and to the
British Empire.
And yes, Letter's To Lizzie is to be reincarnated! stay Tuned….
And Now a Little Something Extra. From UpComing AutoBiography, LIFE! HoleHoleHeartedly!
To Support or Partner or prebook this, please indicate in comment page below.
Clan-destine
confessions
I am a bastard. The name I carry is not the one I was born with. And I do not refer
only to the truncated byline that accompanies this article.
(That was the Guardian's doing. Days into what would turn out to be a career, not many moons ago, a dashing sub-editor faced me with the ultimatum of truncating my name or run the risk of not being
credited for my articles.)
For years I harboured clandestine thoughts that I was a bastard. In times when I wanted
to disown my family, I convinced myself I was orphaned; on better days I
savoured my secret – that I was a love child!
While I combed her hair, made wavy from decades of plaiting, or massaged her back, I
would smilingly indulge in this little secret I shared with my Ma. She groaned
approvingly every time I massaged an ache out. I dread to think what her real
reaction would have been had I voiced my thoughts…
But it was not just my imagination running wild. My bastardisation was the doing of
the State.
It began
when…….
….Five generations later,
Moneah now lives: In the faces and the mannerisms and quirks of character of the some
3,000 women who can trace a bloodline to her.
From what
I know of some of those women in her lineage, …
….
She would
mourn him properly in the traditionally defined ways, and two years later
[youtube=https://www.youtube.com/watch?v=xm7r7-8amRs&w=320&h=266]
A solid bridge now stretches seven generations – each step boldly
labelled – towards. Because we know her name.
CONTACT US TO PREBOOK, PARTNER OR SUPPORT EFFORTS