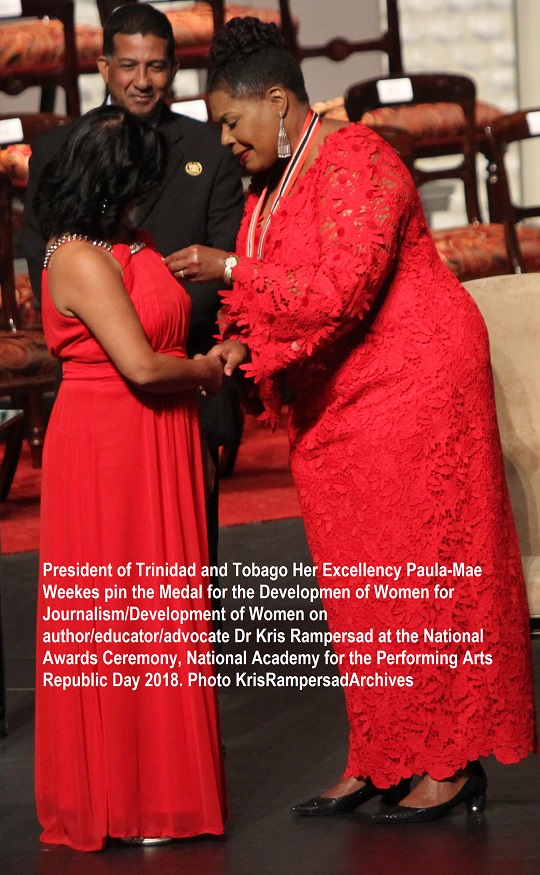 Call it the Walk of Excellence!
'Excellent!' That is the first direct word to me in my first encounter with the first woman President of Trinidad and
Tobago, Her Excellency Paula-Mae Weekes, ORTT.
It is the night of the
National Awards
on the occasion of the 42
nd
Anniversary of our Republic status.
The citation is being read, 'the MEDAL FOR THE DEVELOPMENT OF
WOMEN (GOLD) is awarded For Outstanding Contribution to the Development of
Women's Rights and Issues in Trinidad and Tobago…. Scroll to read more…
Gold Medal Development of Women Journalism
She repeats, 'the Medal For Outstanding Contribution to Journalism/the Development of Women, and then adds my title Dr, then pronounces my full birth name which has been abbreviated for most of my career
as Kris Rampersad. There's a story behind that too!
The announcers begin reading a brief of my life's work. Good
luck with that, I think, trying to condense a life that has filled many ungiving minutes with its full sixty seconds of distance run into the sixty-odd seconds it would take to collect the medal, shake hands, collect scroll and walk across the stage of the National Performing Arts Centre. Scroll to Read More…
Unforgiving Minutes towards Walk of Excellence
I am not too worried about what selections would be made
from my CV. The announcers are Sharon Pitt and Errol Fabien, two of my most respected colleagues in media and whom I have known through my career. Sharon, in fact was one of the first journalists I met when I entered the field as a freelancer in San Fernando. She worked for radio. I was only at the South office for about a month before I am called for a staff position at the headquarters of the Guardian in Port of Spain. The south journalists, and Richard Lord, in particular, say at almost every encounter that it's the fastest promotion they had ever witnessed. There's more to that story, but at another time. See video, then Scroll to read More..
Formal and informal newsrooms
Sharon called me a few years ago. I had been out of the formal newsroom for almost a decade expanded my journalism to accommodate new media and international outreach development, advocacy and revising agenda setting instruments and institutions at all levels. She has followed my career, she says, inviting me to speak at her daughter's school.
Out of the formal newsroom, but not out of journalism, my focus was on institutional strengthening, legislative reform, education, and awareness building. These were weaknesses I had identified and experienced across fields and spheres in many engagements through studies and otherwise with various societies, the path to our development and our place in the world, at the intersection where local meets global; this while continuing to write copiously, film scripts, books, research papers, commentaries and blogs, books, some published, still many to be released. Scroll down for more
Real & Unreal Jobs
"As one of the few women who have tried to make a living and
career from writing and as a role model for young women like her (daughter)," Sharon says, explaining her request. I was touched. She was one of the few who had identified my work not just as journalism but in the broader sphere of 'writer'. I would have loved to; indeed it was no mean feat, trying to make ends meet, maintain one's independence, and
function in a sphere that was nebulous to many. Navigating the incredulous looks on bankers and other officials who would ask, 'what is your real job,' when I say 'writer' for instance, and then insist on tangible proof that that is something people do for a living. But my travel schedule, international engagements could not accommodate the date of the graduation as I would regrettably be out of the country.
Women in Red
Tonight, I am comforted in the confidence I had in the readers of the bio profiles, Sharon and Errol; their delivery on the fifty other awardees who preceded me, impeccable, aticulate and flawless. Yet, their voices fade out as I turn the bend to come face to face with Her Excellency. She is stately, elegant, immaculate in red lace, the same shade as my red chiffon, and the curtains drawn on each side of the stage at the National Academy for the Performing Arts!
Her voice is a concise balance of effusion, commendation and
warmth. She is handed my medal by Secretary to the President Gregory Serrette, who had walked me through the process a few days earlier. But the experience was altogether novel…. To be Continued … Stay tunedfor this inspiring story ….
Find out more about Kris Rampersad and work for gender equality and gender sensitive development.
You Too Can Make A Difference.
How Can you deepen your work in advancement of women and girls? Find out about Custommised and Creative and Partnerships for Gender Sensitive Development Here.
Take the Journey
Join Us