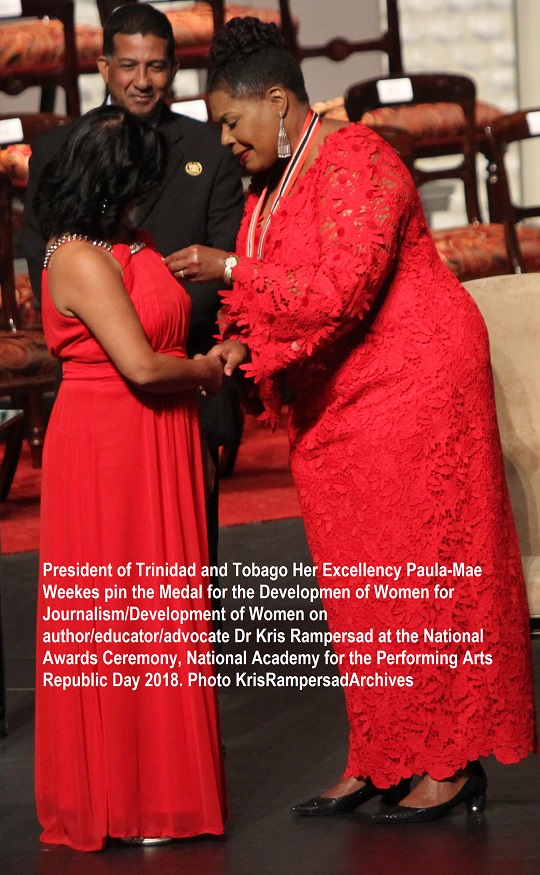 My bastardisation was the doing of the State. – Dr Kris Rampersad, Clandestine Confessions
Clandestine Confession of internalised Colonial Contempt might not be exactly the theme that my WorldPulse network on gender empowerment might have had in mind when I was asked, as a Worldpulse Ambassador, to share a story about a girl, in the lead up to International Day of the Girl. International Day of the Girl would be observed on October 11.
Internalised Colonial Contempt – About a Girl
But this is about a girl, not one girl in particular but any girl who sees herself in this clandestine confession of internalised colonial contempt.
Funny thing is these days when I think of girl, I think of my near-Nonagenarian Ma, whose girlish optimism, joie d' vivre, generosity and love of singing shine through as she gracefully embraces her advancing age. 'I getting old?' she would often ask skeptically and those around her could see why.
The Love Child is Mother of the Girl
It may be, the child is father of the man, for Wordsworth – whose heart leaps up, not unlike Ma's girlish heart, when s/he beholds a rainbow in the sky. (See text of poem, The Rainbow, below) Like him, in Ma's aging, I see the mother of Ma, the girl.
It may be easy to frown at but it is not east to shed internalised retrogressive and regressive contemptuous colonial posterings that promote social exclusions, and go against our efforts at inclusion.
It naturally evokes thoughts of those women who were denied opportunities by social structures and systems over which they had no control. Women like Ma. But that was then. This is now, a world of empowered women, placed in high offices, to make more spaces for other girls, even those who want to carve paths and blaze trails that were not the traditional ones that shackled our mothers and the giggles of the girl inside them.
Self Sacrifice to open up spaces
Ma's insightful wit that keeps our feet on the ground, is quick to see into the traps and trappings of high office that some of the women fall into, forgetful of the struggles, sacrifices and endeavours of many others so that they could have access to the spaces and opportunities that they do.
It is Ma's gently push and support of my education, at tremendous sacrifice of herself, not unlike the stories of many others I have shared, that indeed have inspired much of my drive for empowerment of women and attempts to open up spaces for girls and women. It is against the benchmark of what I think of what she may have done with a life in public office, for example, if she had even the slightest of the opportunities that I am driven to expect more from many who are whittling away the opportunities with which they have been provided to lead.
Mothering Ma
Paradoxically, it is in mothering my mother in these delightful days that draw out maternal instincts I didn't know I possesses.
So over the next few postings in tribute to Ma, and the women who were denied such opportunities, and those who have been given them but do not understand on whose shoulders they stand, I share some musings over the years. This is part of a Global #Ultimate Blog Challenge so look out for a posting each day of October on various issues and ways of bridging the sustainable knowledge gaps from policy, legislation, education to make the this world we want! Scroll down for more Clandestine Confessions below.
This selection that follows, written tongue-in-cheek, and satirical, is an intensely personal clandestine confession, of inherited exclusions and contemptuous labeling, is part of the living experience of many of this and previous generations that spilled over from the colonial era, that one would think that newly independent and liberated and celebrated achievers of high office ought not to repeat…. And when there is so much more to fix, surely such wasted energies could be better expended.
It is just another example that those of us working in the heritage arena recognise and understand to be lingering strains of entrenched mental slavery that permeate all our institutions, including the ones that should be initiating and redirecting change. Only concerted retraining, reculturation, reorientation and reconditioning, it seems, can remove – the task ahead.
Clandestine Confessions
(From the Archives) I am a bastard. The name I carry is not the one I was born with. And I do not refer only to the truncated byline that accompanied my article. (That was the Guardian's doing. Days into what would turn out to be a career, not many moons ago, a dashing sub-editor faced me with the ultimatum of truncating my name or run the risk of not being credited for my articles.)
Love Child of Colonial Contempt
For years I harboured clandestine thoughts that I was a bastard. In times when I wanted to disown my family, I convinced myself I was orphaned; on better days, I savoured my secret – that I was a love child! While I combed her hair, made wavy from decades of plaiting, or massaged her back, I
would smilingly indulge in this little secret I shared with my Ma. She groaned approvingly every time I massaged an ache out. I dread to think what her real reaction would have been had I voiced my thoughts… But it was not just my imagination running wild. My bastardisation was the doing of the State.
It began when I discovered my birth certificate a few weeks before sitting the Common Entrance examination.
EDUCATE

Critics acclaim LiTTscapes as go-to book on fiction and reality

In tribute to heritage literature and small island and South American ties

LiTTribute to the Republic Tea with the First Lady Josiah, Kadie and Jolie perform Invocation: LiTTribute to the Muse

Bob Marley's Reggae Music Road To UNESCO Intangible Heritage
Under the column "Father's name" there was a dash. Nothing else. A dash, then blank. Everyone assumed I was Rampersad because my many, many brothers and sisters carried that, presumed to be one of my father's names – and when you're number 10 on the list you can't really choose your name, or so they thought. I'd disprove it! Trice!
Though all my official records made me his, his name was not on the birth certificate. Instead, that carefully rolled, still crisp but yellowing piece of paper Ma kept in her secret place stated I was a S–j.
Even when Rampersad went to the Red House in Port-of-Spain to swear I was his, I reserved the option of being S…j when I wanted. Really, I should be Kris (blank) or Kris — (dash).
Three years ago, I again saw S…j's named on paper. One then long-unknown cousin, Nelson Ramdeen, was tracing his maternal ancestors and it led him to my mother. He jotted down all our names, and the names of the children of my siblings, and the names of ma's siblings, and their children, and her mother's name, and her father's name: S…j, a grandpa I had never known.
Her unregistered Hindu marriage to my father not being recognised by law, not even 10 children later, I was stuck with her father's name, her maiden name, hence her love child, and my romanticised bastard status.
So Rampersad is the name that defines my place in a place that didn't recognise my parents' cultural relationships – an oral culture – in a place where the emphasis is on things written.
Her unregistered Hindu marriage to my father not being recognised by law … hence her love child, and my romanticised bastard status.
Writing made things real. In that way too, Moneah became real. (Scroll down to read more beyond the confession within the confession
Confession within a Confession
A Confession within a confession – Some say I got the name Munnie for my lovable Festival Fable creation from the name of this great great great grandma, Moneah, subconsciously, perhaps). Get it on Amazon or sponsor copies for your community.
Explore the Adventures of Munnie
Moneah migrant story pops to life
From Ramdeen's research, she popped to life. He traced my mother's lineage to this faceless woman, who, for whatever reason, at age 22, from a village in India, packed her husband, Ramchurn, and her Jahaji bundle; boarded the Hougoumont on October 13, 1870; braved four months of treacherous, unfamiliar kala pani, to arrive in Trinidad on February 15, 1871, one day after what would come to be known as Valentine's Day.
National Love Affair Outliving Husbands
Thus began her love affair with Trinidad, which would outlive two husbands, spawn 10 (known) children, some 50 grandchildren (and counting, some blanks still exist); each of those had on average 40 grandchildren; each of those some 30 grands.
Five generations later, I need a better capacity for math than I now possess to calculate Moneah's contribution to Trinidad and Tobago's voting and working population and to the Trinidad diaspora in North America, Asia, Australia, Europe and the Caribbean, which in a rough estimate is beyond 5,000 human souls in various places, professions.
(All except politics, the family jokes, and on the agenda is a motion to disown from Moneah's lineage any who enters that profession at the next clan gathering – the first was 130 years after Moneah's arrival, so the next might not be until another century or so, Be Warned!
Moneah now lives: In the faces and the mannerisms and quirks of character of the some 3,000 women who can trace a bloodline to her.
From what I know of some of those women in her lineage, I could see her, on Ramchurn's death two and a half years after their landing, pulling her widowed orhini over her head and shrugging off considerations of becoming Suti and being burned on a pyre with her husband, a tradition that died in the New World with the dying embers of the Suti practice. I could hear her saying, "Sati who? Mere nam, Moneah" (My name's Moneah!).
Need to adopt a more gender sensitive approach? Ask about our creative partnerships and learning opportunities linked here
She would mourn him properly in the traditionally defined ways, and two years later consort with our grandsire, Shewpersad, who said farewell to his cows and his village, boarded the Brechin Castle (ship) on December 26, 1874, to Trinidad and 25 years of Moneah.
Those two would seed Trinidad soil with cane and cabbages, pumpkins and pawpaws, and offspring like peas.
Though only one of her sons, one great grandaughter, and two great, great grandsons would demonstrably exceed her level of fertility, the average offspring of each of the descendants over five generations stands around six.
Several have inherited her genes of outliving husbands.
They include beef-eating Hindus, pork-eating Muslims, bhajan-singing Christians; through their veins have flowed T&T's coconut water and Carib, French wine, Scottish whisky, Japanese sake, India's lassi, and whatever other beverages rage in the places they have settled and spawned their own dynasties – in the USA, Canada, Europe, Australia and India.
A solid bridge now stretches seven generations – each step boldly labelled – towards. Because we know her name.
The Rainbow
My heart leaps up when I behold
A rainbow in the sky:
So was it when my life began;
So is it now I am a man;
So be it when I shall grow old,
Or let me die!
The Child is father of the Man;
And I could wish my days to be
Bound each to each by natural piety.

William Wordsworth,1802
YouTube URLPaste a link to the content you want to display on your site.EmbedLearn more about embeds(opens in a new tab)