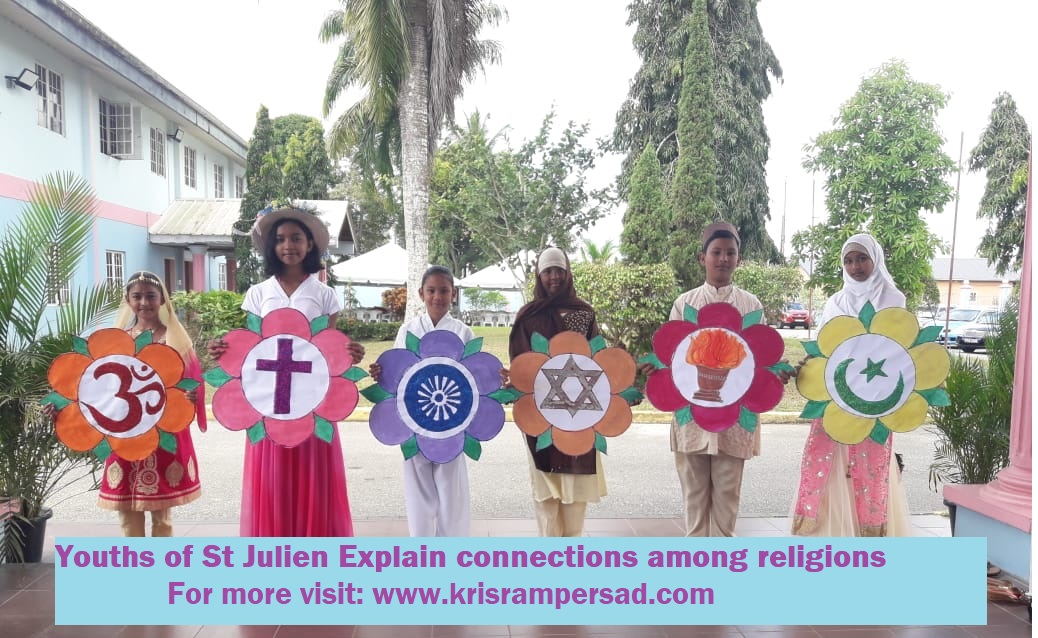 Youths from this village research, recreate and resurrect ancient culture, beliefs and recreate arts, crafts and lifestyles, nurturing respect and understanding for MultiCultural Faiths of the Diaspora. Appreciation for World Heritage, Cultures, and Diverse Religions.
Launch to Connect Village to Global Village
Join the Launch and Opening of Shirdi Village by Baal Vikaas youths of St Julien at 6.30pm (Atlantic) September 27 with Dr Kris Rampersad http://www.krisrampersad.com. Stay tuned for the launch of the full story of The Samadhi of Shirdi. See sneak preview in this Youtube video linked here.
Leaves of Life Edutainment
It's part of our E-Learning Laboratory of EDUTAINMENT: Education. Exploration. Entertainment. The World Through MultiCultural Lenses. Creativity applied to Sustainable Capacity Development for Communities and Institutions for all ages for Lifelong Learning and Global Citizenship.
What is the Significance of This Scene?

Heritage and Literary Tours Explorations through Global Caribbean Local Landscapes

Bob Marley's Reggae Music Road To UNESCO Intangible Heritage

Dr Kris Rampersad leading agenda for peace

EMPOWER

EXCITE

LiTTribute to the Mainland at Moray House Guyana

LiTTribute to the Republic Tea with the First Lady Josiah, Kadie and Jolie perform Invocation: LiTTribute to the Muse

Critics acclaim LiTTscapes as go-to book on fiction and reality
The concept of Edutainment
In this television interview, Dr Kris Rampersad discuss her new series of Festival Fables and the notion of Edutainment to transform education and propel next generations into the future of learning with the Leaves of Life Global Local Caribbean Knowledge Pot (LOL GLoCal)
Creating a Reading Revolution
Highlights of the Reading Revolution begun with LiTTscapes – Landscapes of Fiction, the official commemorative publication of the Jubilee (50th) Anniversary of Independence. See it below or through this Youtube video.
LiTTscapes – Leading the Literary Learning Journeys
Hear the Head of the Guyana Prize for Literature review LiTTscapes and its unlimited possibilities for injecting novelty into literary heritage to restore nationhood and resurrect the nation. Click below or visit and subscribe to Youtube here.
Creative Partnership Opportunities
Join us in our efforts to create indigeneous learning materials and edutainment resources for youths from 3 to 103.