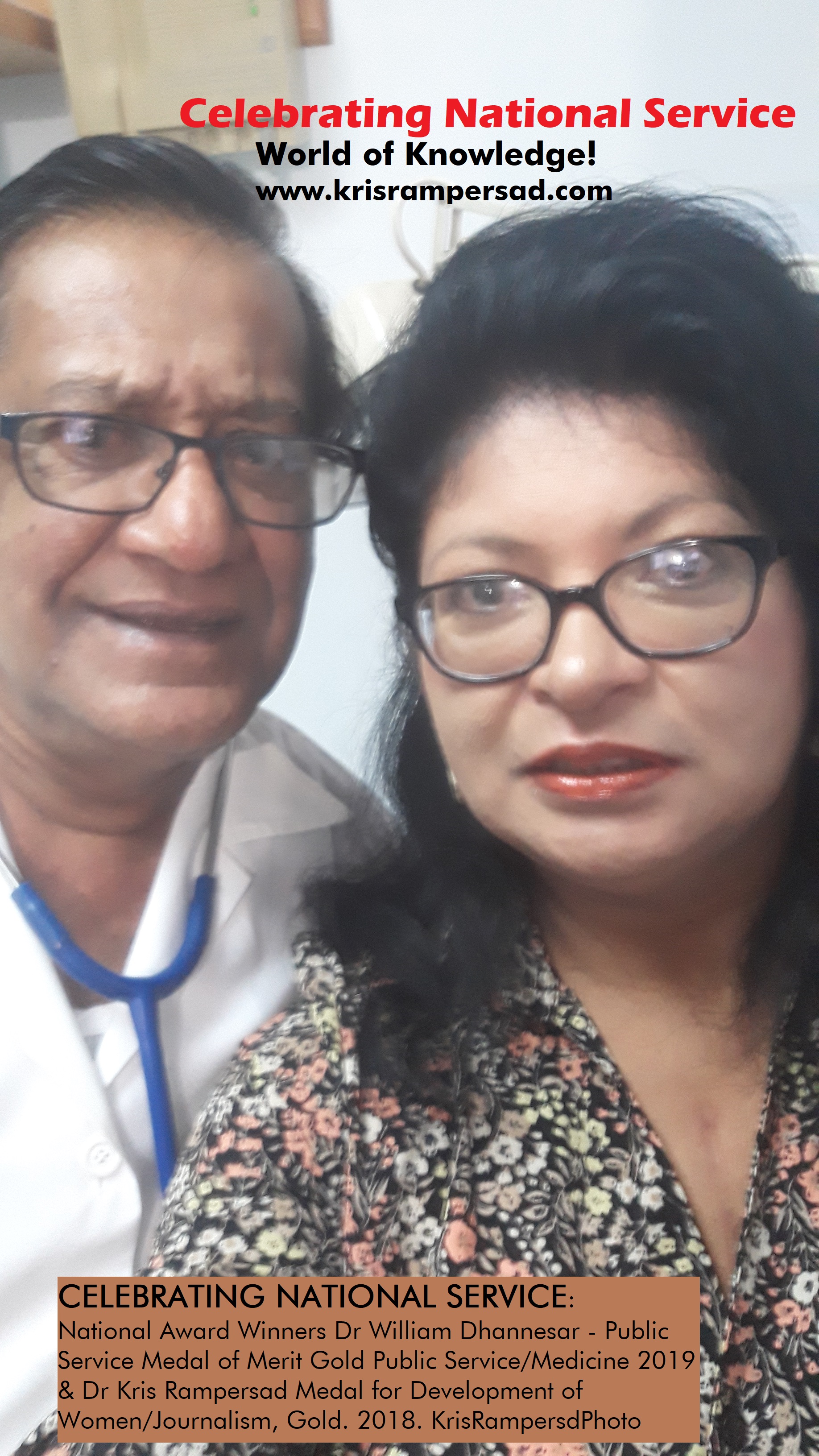 Congratulations to Dr William Dhanessar on the Gold Merit for Doctor of Medicine on receiving the national Public Service Medal of Merit/Medicine, Gold. As we commend all the awardees, We celebrate the dedication, commitment and outstanding work of this Doctor and his Leaves of Life Legacy in our GLoCal Knowledge Pot with exclusive insights. Subscribe to learn more of how you too can be part of our celebrations! Leave A Leaves of Life Legacy! The full list of the 2019 National Award recipients below.
Go to This link to find out about our legacy champions and how you too can leave a Leaves of Life Legacy! Click Here. Scroll Down for More
LOL GLoCal Knowledge Pot Celebrates the Nation
Our Leaves of Life gallery salute all the other national achievers.
National Awardees 2019
The National Awards Ceremony offers categories and thirteen classes of the National Awards :
The Order of the Republic of Trinidad and Tobago (formerly The Trinity Cross Medal of the Order of the Trinity) in Gold only
The Chaconia Medal of the Order of the Trinity, in Gold, Silver and Bronze
The Hummingbird Medal of the Order of the Trinity, in Gold, Silver and Bronze
The Public Service Medal of Merit of the Order of the Trinity in Gold, Silver and Bronze
The Medal for the Development of Women of the Order of the Trinity, in Gold, Silver and Bronze. Scroll down for more
THE ORDER OF THE REPUBLIC OF T&T
Commendations to Recipient of the Order of the Republic of Trinidad and Tobago recipient 2019
Calypsonian and Professor Hollis Urban Liverpool (Chalkdust), Associate Professor of History-Education/Culture/Research
Chaconia – FOR LONG AND MERITORIOUS SERVICE
The Chaconia Medal (Gold)
Bharat Bassaw – professor/consultant, obstetrics and gynaecology (medicine)
Clarry Benn – former executive director of the Unit Trust Corporation and chairman of the National Entrepreneurship Development Company (finance)
Major General Ralph Brown – former Chief of Defence Staff (public service)
Lawrence Carrington – professor emeritus, University of the West Indies, St Augustine (language and development)
Donald Howard "Jackie" Hinkson – artist (art)
Nizam Mohammed – attorney (public service)
Kenneth Cyril Valley (posthumously) – politician (public service)
The Chaconia Medal (Silver)
Christie-Ann Morris-Alleyne – attorney (civil service)
Dr Esla Valerie Lynch – former principal (education/public service)
Join Us Celebrate the Nation
Join Us in LiTTributes, LiTTeas, LiTTalks with LiTTscapes to Celebrate the Nation
HUMMINGBIRD, FOR LONG AND DEVOTED SERVICE
The Hummingbird Medal (Gold)
Martha Alicia Archer – former business services manager at WASA (sport)
Darrin Roger Brian Carmichael – executive director of Community Defence Services (Neighbourhood Watch) (community service)
Norma Eleanor Blizzard-Inniss – former pharmacist (public service)
Richard Fakoory (posthumously) – former businessman (community service/sport)
Maura Patricia Imbert – biochemist/ university lecturer (astronomy)
Cathryn Kelshall – teacher (education)
Aftab Khan – professor emeritus of geophysics, University of Leicester (medicine)
Dr Lesley Ann Roberts – nephrologist (medicine)
John Seyjagat – lecturer/executive director of the Zoological Association of America and International director of the Zoological Society of TT (education/ conservationist)
TT Association of Retired (Responsible) Persons (National Service)
The Hummingbird Medal (Silver)
Jennifer Myron Cassar (posthumously) – former Carib Queen of TT (culture and community service)
Gloria Dallsingh – mas designer (culture)
Edmund Jackson Pouchet – swim coach (sport)
Satyernand Seemungal – attorney (community service)
The Hummingbird Medal (Bronze)
Devendra Boodooram (posthumously) – prisons officer II (public service)
Thaddeus Caraballo – police officer (gallantry)
Augustus Castle – facilities manager (gallantry)
Jeremy Lewis – coast guard (gallantry)
Akil Melville – fire fighter (gallantry)
Kwasi Robinson – local economic development officer (gallantry)
FOR OUTSTANDING AND MERITORIOUS SERVICE TO TT:
The Public Service Medal of Merit (Gold)
Only citizens of Trinidad and Tobago are eligible for the award of the Public Service Medal of Merit. Awardees of 2019 are:
Dr Cyril Anthony Collier – senior lecturer, University of TT (education/culture)
Dr William Dhanessar – medical doctor-oncologist (medicine/public service)
Shastri Maharaj – artist/teacher, former curriculum co-ordinator in visual and performing arts (art)
Dr Jasmine Stella Ramcharan – paediatrician (child development / public service)
Col Patrick Eustace Taylor – reinsurance executive (community service / youth development)
L Anthony Watkins – consultant (public service)
Dr Sister Phyllis Wharfe – project director (education and the empowerment of young women)
Medal for the Development of Women (Gold)
FOR THE OUTSTANDING CONTRIBUTION OF WOMEN'S RIGHTS AND ISSUES IN TT:
Marilyn Barker-Duncan – professor of gender and cultural studies (development of women)
Onika Mars – president and founder of Woman of Substance, Tobago (development of women)
Patricia Mohammed – professor of gender and cultural studies (development of women)
Asiya Mohammed – executive director, Conflict Women Ltd (development of women)
Did You Know? From Out Archives
The Order of Trinidad and Tobago was first named the Trinity Cross, but it was renamed out of respect for our diverse religions. The first recipients were:
| | | | | |
| --- | --- | --- | --- | --- |
| 1969 | The Trinity Cross | Dr. Rudranath Capildeo | Scientist | Science |
| 1969 | The Trinity Cross | Sir Ellis Clarke – C.M.G., Q.C. | Ambassador to the United States of America | Drafting the Constitution of Independent Trinidad and Tobago |
| 1969 | The Trinity Cross | His Excellency Sir Solomon Hochoy – G.C.M.G., G.C.V.O., O.B.E. | Governor General | Ex-Officio |
| 1969 | The Trinity Cross | His Excellency Count Finbar Ryan – O.P. | Archbishop of Port of Spain (Retired) | Religion |
| 1969 | The Trinity Cross | The Right Honourable Sir Hugh Wooding – P.C., C.B.E., Q.C. | Chief Justice (Retired) | Justice |
Source: https://otp.tt/trinidad-and-tobago
Partner With Us
Find out about Novel Opportunities and Creative Partnerships here