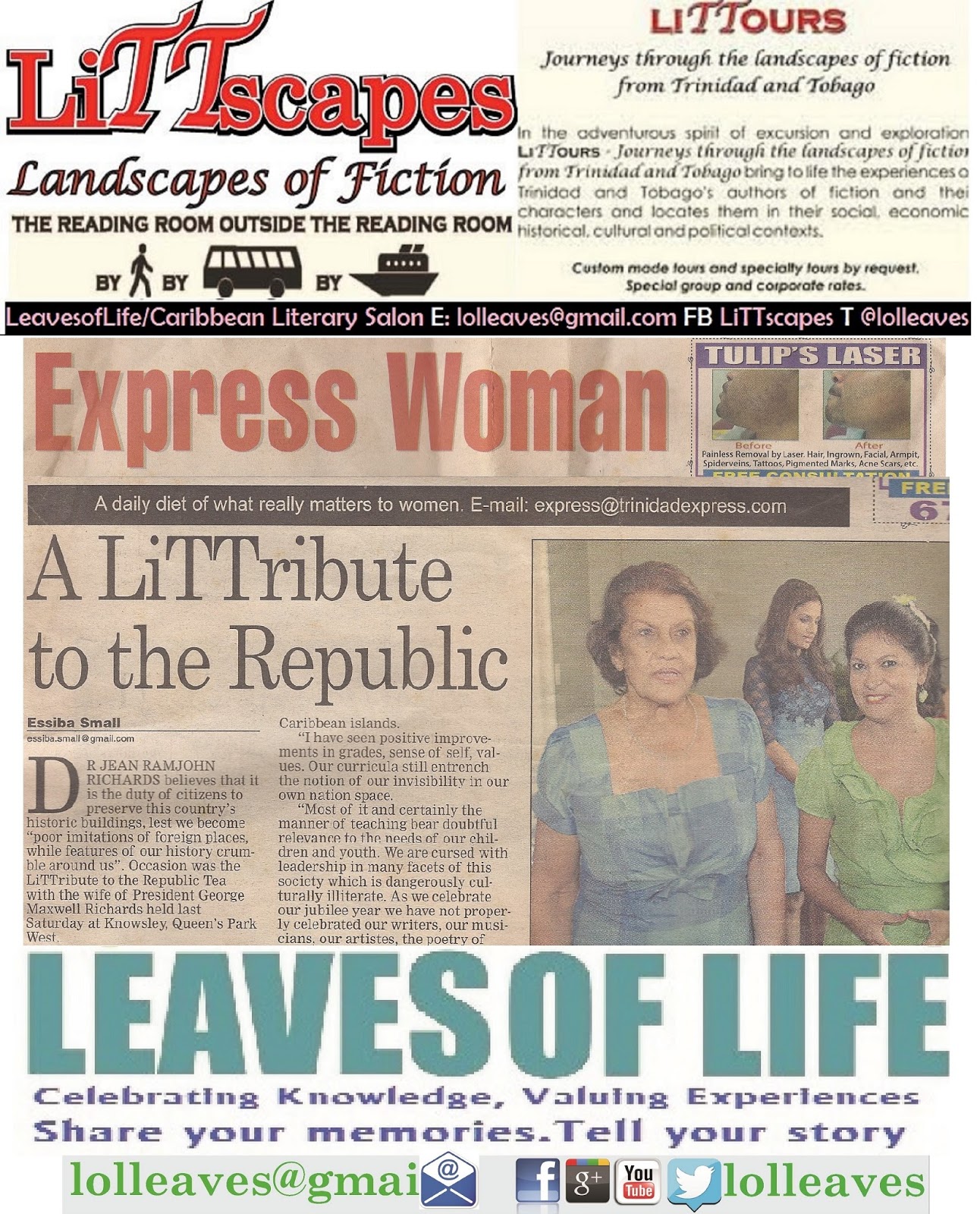 In the News….
T&T Author Antigua Icons In LiTTribute To Antilles
PORT OF SPAIN, Trinidad and Tobago — Trinidad and Tobago's Dr Kris Rampersad, author of LiTTscapes – Landscapes of Fiction from Trinidad and Tobago will team up with icons of Antigua and Barbuda to stage a literary tribute to the Antilles this Saturday at the museum in St John's, Antigua.
Dr Rampersad, whose book, LiTTscapes, was launched as part of the golden jubilee celebrations of Trinidad and Tobago last August, has undertaken a series of tributes called LiTTributes to highlight the contributions and value of the creative sectors of the Caribbean.
Get Your Copy of LiTTscapes bulk orders from author or from Amazon in Paperback and Kindle
LiTTscapes has been described as a groundbreaking encyclopaedic yet coffee-table style compendium of the lifestyles, landscapes, architecture, cultures, festivals and institutions of the Caribbean and quintessential to the Caribbean diversification agenda as a means of promoting sustainable development through the creative sector in its presentation of history, politics, cultures and lifestyles, by reviewers as head of the Guyana Prize for Literature and deputy vice chancellor of the University of Guyana, Professor Al Creighton; Poet Laureate of Port of Spain, Pearl Eintou Springer; former principal and pro vice-chancellor of the University of the West Indies, Dr Bhoe Tewarie and former First Lady of Trinidad and Tobago Dr Jean Ramjohn Richards, among others.
Said Creighton: "Easy to read, LiTTscapes is a work of art, a documentary, a travelogue, a critical work with visual and literary power. It is a quite thorough artistic concept, a portrait and biography of the nation of Trinidad and is attractively, neatly and effectively designed. It reflects a considerable volume of reading, ranging from the dawn of Caribbean literature (as early writings of Walter Raleigh, through to present including Nobel laureates Derek Walcott and Sir Vidia Naipaul). Whatever one says no one book can do, this one almost does."
Rampersad explained: "The literary tributes, called LiTTributes, celebrate the creative synergies between fiction, the built and natural landscapes and the creative energies of writers, musicians, dramatists, artists, architects and other creators." She noted that the launch of LiTTscapes was followed by the LiTTribute to the Republic in Trinidad and Tobago in September 2012 and LiTTribute II – LiTTurgy to the Mainland in Guyana in February 2013.
"The Antiguan event is being called LiTTribute to the Antilles and will include presentations by Rampersad and Antiguan writers and performers, including writers as Joy Lawrence, Joanne Hillhouse and Floree Williams with support from the Historical and Archaeological Society of Antigua and Barbuda which operates the museum, and Best of Books, Antigua. It will feature readings and performances inspired by LiTTscapes, which represents some 100 works of some 60 writers, including the Caribbean Nobel laureates for literature, Derek Walcott and Sir Vidia Naipaul."
She said: "LiTTributes are meant to make both the creators and our communities aware and heighten appreciation of how we may work in tandem for the benefit of our countries and our region. I am indeed humbled and buoyed at the enthusiasm being showed throughout the region and indeed the diaspora for these as already I also have interests expressed for similar LiTTributes in North American and Europe from where a considerable number of our fiction writers have functioned.
"LiTTscapes is a celebration of ourselves – small islands whose creative energies have generated enormous waves across the globe, as this LiTTribute to the Antilles will endorse. Antigua has given us writers like Jamaica Kincaid and Joanne Hillhouse. Derek Walcott titled his acceptance speech for the Nobel Prize, The Antilles – Fragments of Epic Memory. This event is a celebration of that epic Antilles, not as fragments, but for the wholeness of our aesthetics," said Rampersad.
Rampersad said along similar lines of the LiTTscapes celebrations, the Antigua/Barbuda event will feature the Caribbean architectural alongside literary, visual and performance heritage. Its staging at the museum building will recognise Antigua's oldest heritage building which is the former site of an indigeneous marketplace. Previous events were staged at the historic Moray House in Guyana, Knowsley Building in Port of Spain and White Hall, one of Port of Spain's Magnificent Seven edifices.
LiTTscapes: Key Features
Full colour, easy reading, coffee table-style
More than 500 photographs of Trinidad and Tobago
Represents some 100 works by more than 60 writers
Captures intimate real life and fictional details of island life
Details exciting literary moments, literary heritage walks & tours
Essential companion on T&T for tourists, students, policy makers, academics, lay readers
Totally local effort to stimulate local creative industries
Encourage literacy and creative activity
About the Author – Kris Rampersad
For more than two decades Dr Kris Rampersad has been actively involved in analysing, assessing, critiquing and defining the development agenda for Caribbean societies. She is a journalist and educator in Caribbean literature, culture and heritage.
T&T author, Antigua icons in LiTTribute to Antilles ~ Caribbean Entertainment Magazine
http://www.caribbeanemagazine.com/2013/03/t-author-antigua-icons-in-littribute-to.html