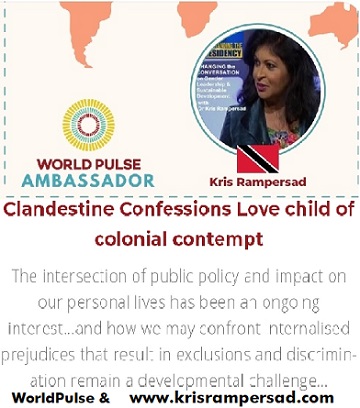 Dr Kris Rampersad featured WorldPulse Ambassador
Award-Winning international gender empowerment network, WorldPulse featured Ambassador. WorldPulse highlights my work for gender equality including my most recent post drawing attention to the bridges still to be crossed in the actions and conversations about gender, leadership and transformation.
WorldPulse is an award-winning international social network connecting women worldwide for change and empowerment of women and girls. It is internationally recognised by PBS, Time, CNN and BBC as a voice for women and women issues. Advancing women leadership and development Scroll to Read More
Women in leading public office
This comes as the 52nd and first woman US Speaker of the House of Representatives, Nancy Pelosi takes centrestage, with approval of hearings for impeachment proceedings against US President Donald Trump, in what she declares is an effort to uphold the Constitution of the USA.
Public Policy Actions & Cultural Relations
Among elements featured is my musings about a girl, Love Child of Colonial Contempt from my article Clandestine Confessions.
It explores the links between family issues and public policy. It highlights how governance processes perpetuate prejudice, biases and exclusionary policies to depreciate diversity, social inclusion, and harmony and how such practices are passed on and down over time.
Defenders of the Constitution
As women assume more and more positions of leadership, it aims to alert and educate women leaders, as the bearers of culture, how negative cultural behaviour may also be transmitted through actions in office, especially as those action may have been initiated through traditional patriarchal outlooks. In the arena of cultural conservation, leaders need to be reoriented into identifying negative and positive traditions and choosing and crafting programmes and action in the interest of social progress and advancement.
This is an excerpt of my interview on the Presidency: Women, Leadership and Power. The full interview can be seen in this link here.
Constitutions may embed gender bias and prejudices, that leaders, including women perpetuate through their actions that lean on traditions that negate women and their value to society. Click on video below.
Culture Sensitive Education for leaders
There is much need for leaders to access culture sensitive education, which can take many forms. Ask for seminar or workshop customade to your organisation, industry or interest.
My book, I the Sky & Me the Sea, The Adventures of Munnie Butterfly and Danny Dragonfly, the first in a series on Festival Fables has been critically acclaimed in its role for culture sensitive education of children from ages 3 to 103, including leaders in high office.
One Canadian newspaper juxtaposed a caricature of US President Donald Trump's position on immigrants with the cover of I the Sky & Me the Sea, recommending its musicalmix and general approach to cultural-sensitive education from preschool. Find it on Kris Rampersad Amazon Author page.
Recognised Commonwealth Gender Scholar
You may recall that my work in gender empowerment also recently received recognition as a Commonwealth Gender Scholar by the Commonwealth Gender Network.
Dr Kris Rampersad is also the Author of Through the Political Glass Ceiling, that assesses the role of gender in elections in the context of the first woman Prime Minister of Trinidad and Tobago.
Women Power and Leadership Through the Political Glass Ceiling Race to Prime Ministership by First Female by Kris Rampersad

Al Gore receives a copy of Kris Rmapersad's book Through the Political Glass Ceiling

Look Inside Through the Political Glass Ceiling

Steps to Political Premiership from local government to Prime Minister to Chair of the Commonwealth

Children enraptured by New Festival Fables from Dr Kris Rampersad

Former US Vice President Climate Action Leader Al Gore receives copy of Dr Kris Rampersad's Through the Political Glass Ceiling from Prime Minister Kamla Persad Bissessar
Find Through the Political Glass Ceiling on the Kris Rampersad Amazon Author platform. Order in bulk here.
Also find my book that explores the cultural place and the human creative imagination in LiTTscapes – Landcapes of Fiction, also available on Amazon.
Interactive learnings for all ages
LiTTscapes has inspired LiTTeas cross continental LiTTours and global LiTTributes engaging with major development themes.
In the tradition of Lewis Caroll Alice in Wonderland like satirical tea party on the British monarchy and the historical metaphorical Boston tea party that led to American Independence, LiTTeas aim to stimulate and focus demoratic change and reform to equity, equality and sustainable development. Request yours today.
Locally as the nation gears up for local government election, prospective candidates may want insights into their districts with out Know Your District and Know Your Constituency tours. Of course in the satirical tradition of our great bards, this is well spiced with picong of the political season. By Request only.
Join Us. Subscribe.
Become a partner or sponsor with creative novel opportunities. Find out how in this link here.
Learn More
Find out more about Dr Kris Rampersad or make a booking in this link here.