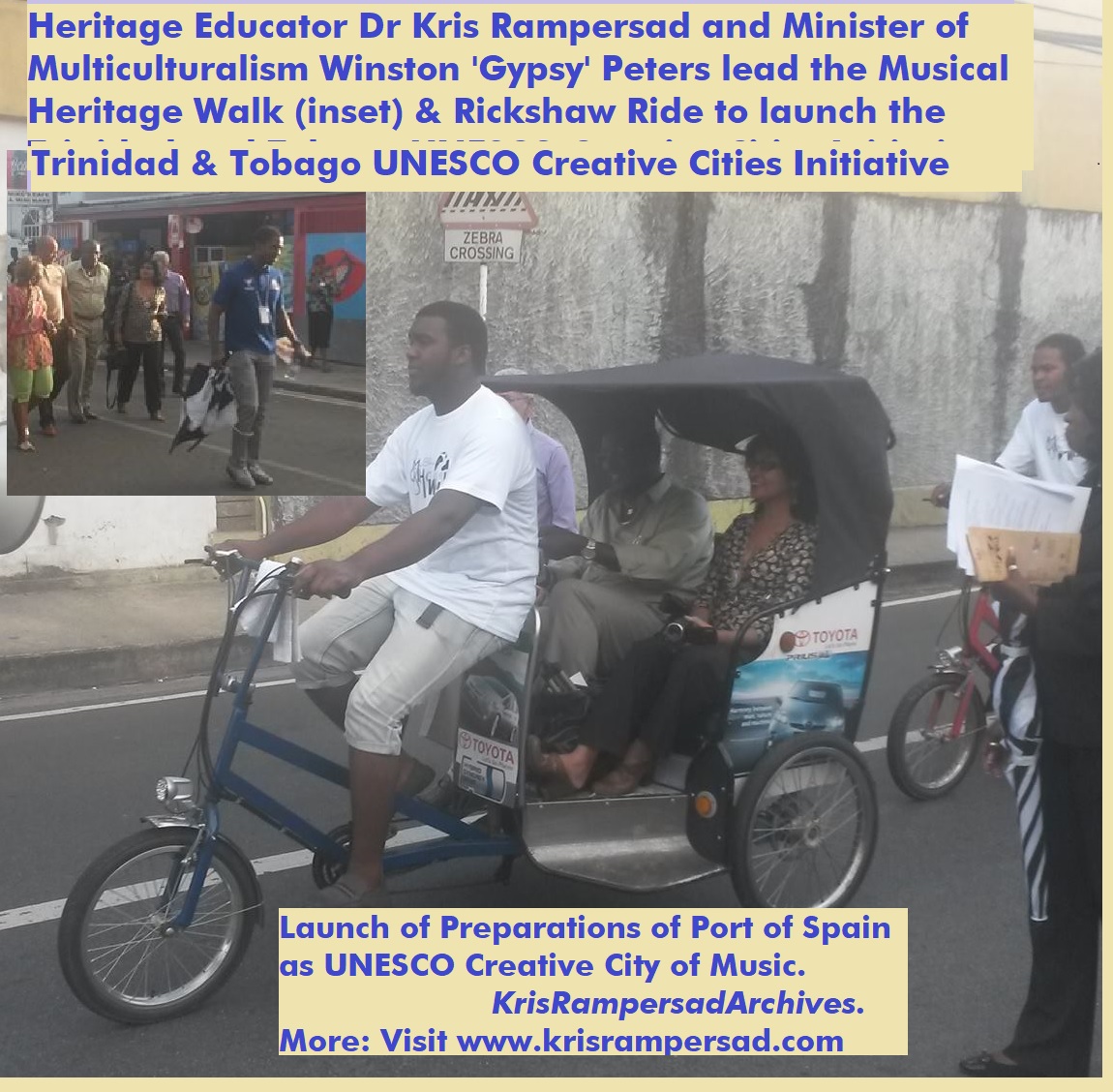 On the first official musical walk through Port of Spain as a UNESCO Creative City of Music in the making, was also the week I learnt to clap. Formally. So this is now deserving of some applause. Let's do a slow clap for having made it and share in the national happiness.
They say you are never too old to learn. The three-step method of clapping:
1. You clap as fast as you can and faster than the person next to you;
2. You clap with your whole body;
3. You say some pleasantries about which you are clapping.Subscribe
So let's try that and applaud, because we are happiest people on earth, right?
Momentous Launch: First musical steps, First Clap
History lives in memory and other forms despite the attempts by the unenlightened to erase it. Below is my address at the official launch of the Creative Cities Initiative – after long months of preparation. Ironically, then too, was election silly, season, the time that brings out the worst of us, when we have so much to celebrate as the best in us.
Honourable Minister of Community Development and Acting Minister of Arts and Multiculturalism, Winston Gypsy Peters – one of our veteran calypsonian and certainly part of the musical heritage of Trinidad and Tobago…. Friends in the culture fraternity; other distinguished citizens, friends all.
Isn't it remarkable that at a time that brings out the worst in us – as election 'silly season' seems to do – we can find the time and a space like this at the iconic Casablanca Steelpan Yard here in Belmont, to celebrate the best in us.
I can only begin to describe the pleasure and sense of fulfillment in being able to open this first step of Trinidad and Tobago musical walk towards engaging with the UNESCO creative cities network – and to do that here, in Belmont one of Trinidad and Tobago's most talented, most accomplished, most diverse district – a microcosm of the people and cultural achievements of Trinidad and Tobago.
The launch today of the Musical Belmont walk is just a small first step towards an incredible journey of becoming a member of a UNESCO global partnership that networks cities around the world, all representing and all sharing a common goal for developing urban areas and harnessing their cultural diversity for sustainable development.
This creative cities initiative is one of the flagship projects I initiated for Trinidad and Tobago Read More…https://krisrampersad.com/
Subscribe . Get your Copy of LiTTscapes – Landscapes of Fiction to explore more of the intersection of literature and musical and other cultural heritage
Next A Musical LiTTribute In A City Near You
Or Next LiTTribute exploring musical and other heritage traditions
could be in your city. Request now visit https://krisrampersad.com/
---
Begins with an idea & proposal
It began after I presented a proposal to UNESCO for Trinidad and Tobago to enter its Creative Cities Network as a city of Literature and Music.
We succeeded in getting a small grant from UNESCO, to seed the initiative, which we hope to multiply in value as only we in Trinidad and Tobago can do, and I here invite partners and sponsors to work with us and now you, the community who must now own this initiative, to moving this forward.
Let us look closer at two phrases that we keep hearing here today: Culture in Development and Sustainable Development: We know, do we not, what it means to do a whole lot with very little. The steelband and creative cultural heritage sector have been providing food and clothing, sustaining families and communities and regenerating and recycling and recreating – using the very little it gets to generate so much – that is really those words mean, so, really, no one can teach us about that; we know what it means when we say culture drives our development, if only others recognise that and invest in this so we could do so much more.
Journeys Through the Landscapes of Fiction
Explore our musical landscapes and other heritage.
By request only visit https://krisrampersad.com/
A few years ago, Minister Gypsy and I were in Bali for a UNESCO meeting on Intangible Cultural Heritage. We witnessed first hand how culture forms the driving force of an entire nation; every industry – agriculture, textiles, tourism, arts and craft, transport, being pushed by the culture and heritage of the people of Bali who are happy with their identity so other people around the world flock to them to share in their happiness.
Don't we consider ourselves the happiest people in the world? How can we better share that? By making the people in culture happy; by engaging other sectors to recognise the value and benefit of utilising our cultural resources to enhance progress and development.
This is a first step to stimulating development of the infrastructure for the support mechanisms for the creative heritage sector and already we have here, TUCO – the Trinbago Unified Calyposonian Organisation, Pan Trinbago, the Carnival Institute, the Remember When Institute, the Government through the Ministries of Education, the Ministry of Arts and Multiculturalism. Let us work now to make this a network; to grow linkages and ties; to understand the interconnections between the activities of all sectors.
Dr Kris Rampersad, author of LiTTscapes with LiTTours through our hertiage landscapes. By Request only
Creative cities are driven by the districts, and localised government, the city council and national government and other community partners including public/private sectors, professional organizations, civil societies, cultural institutions, business organisations, churches, schools, and all in between.
What a walk towards national harmony, national respect, national recognition and appreciation we are initiating here! Let us make the dream real and let us dream of unreeling this in other dimensions to other communities and districts and indeed the wider world.
I invite you to join us in this creative musical heritage walk through Belmont and work with us to advance our trip to UNESCO Creative City status and I thank you all for being here to participate in this memorable momentous launch.
Where can this take us…to be continued …stay tuned for part 2 Value of UNESCO Creative Cities
Dr Kris Rampersad is a heritage educator. To make bookings and more information go to this link
From Open Remarks by Dr Kris Rampersad, Vice President of the UNESCO Programmes and External Relations Commission of the UNESCO Executive Board, at Launch of Musical Heritage Walk of Belmont. March 26, 2015, Casablanca Steel Orchestra Pan Theatre, Belmont, Port of Spain, Trinidad and Tobago(required)(required)Submit