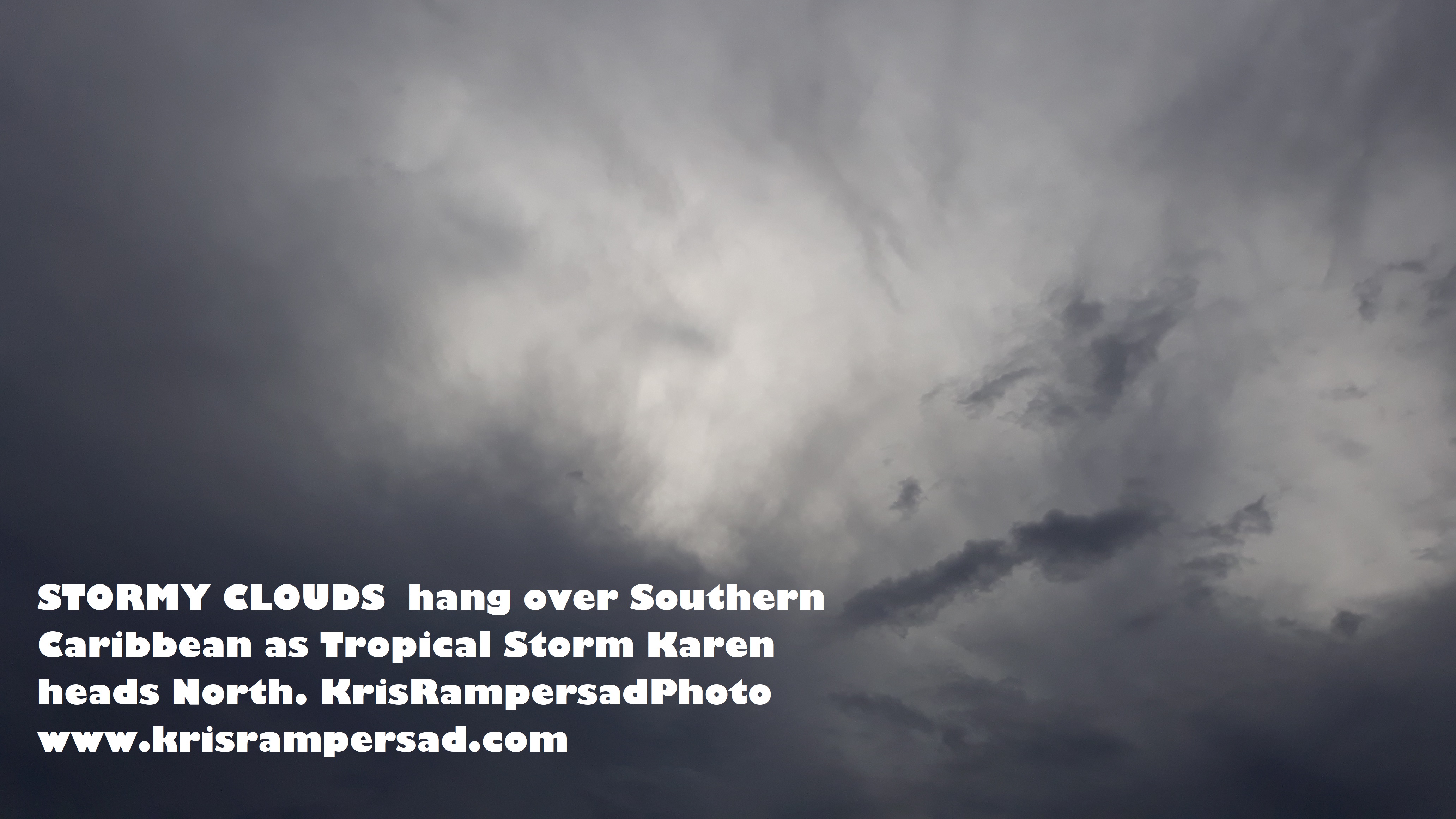 The mud volcano that spewed ash for nearly three kilometres in its last awakening, hissed at Tropical Storm Karen as its dark bands whipped up high winds and poured torrents of rain over Trinidad and Tobago. Stay tuned for updates from Leaves of Life GLoCalKnowledgePot (LOLGLoCaL) exclusive extended archives of this natural phenomenon. Scroll down for more.
Karen Storm bands wreak havoc
With winds up to 70 kilometre per hour, Karen tail-bands leave widespread flooding and damage to property and livestock across the islands of the Southern Caribbean. Scroll down for more on Tropical Storm Karen. Listen to the vision behind I the Sky & Me the Sea in video below.
Karen heads towards Grenada and its dependencies and St Vincent and the Grenadines, the Northern Caribbean and southern USA. where a Tropical Storm Watch is on for U.S. Virgin Islands, Puerto Rico, Vieques and Culebra
and British Virgin Islands according to the US National Hurricane Centre. Scroll down for more after you take a look at some of the outstanding reviews and insights into I the Sky.
Though not to the degree of last October's floods, many will spend this and the next few days mopping up as Karen spreads her wrath. Read my Calypso Tribute to Heroes of the Flood here
Meanwhile, the Mud Volcano in Piparo, South Trinidad….more soon…
More about Storm Karen
As a result of the Adverse Weather across Trinidad and Tobago, the Office of Disaster Preparedness and Management (ODPM) closed off access to the main North-South highway on the banks of the Caroni River. Many roads remain impassable.
:Churchill-Roosevelt Highway in areas between between Orange Grove Road to O'Meara Road, Arima;· St Helena By-Pass Road;· parts of the Eastern Main Road; Southern Main Road;· Madrass Road;· Southern Main Road;· Caroni Southbank Road;· Caroni Savannah Road (south);· Endeavour Road;· Penal Rock Road;· Clarke Road;· San Francique Road. Want to know about these places and the fascinating people, lifestyles and cultures inhabiting them? Get LiTTscapes! Contact us for bulk arrangements or visit the Kris Rampersad Amazon page:
Want to learn more about our interconnections with the environment, global warming, climate change, the effect on sea, sky, you and I? Ask about out customised social and educational Heritage LiTTeas and LiTTours.
Special heritage events and LiTTributes…..and all can be tailored for you, whatever age, interest or industry. We are recreating the Sustainable Development agenda with something for everyone. See video below.
See how here:
Beyond the Storm
We are whipping up our own storm. Join the Reading Revolution sweeping through the Caribbean and beyond…. See the video to learn more.
Safe harbour from the Storm
We have many creative partnerships available. Get in touch and Let's Talk! Let's Have a Tea Party! In Boston, through a Rabbit Hole, or somewhere near you….
Know more
Find out more about Kris Rampersad here
Learn about our interconnected heritage linking the Sustainable Development Goals here.
Make Contact